Rotorua has a host of new activities, making it even more of a destination for a weekend away. Anna Jones investigates.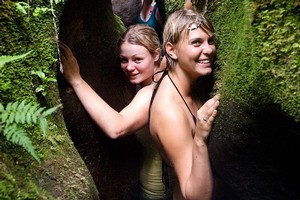 I was in Rotorua recently for a weekend of spa pampering, hangi and luging, so I'm not entirely sure what to expect from this visit. What else can there possibly be to do in this small New Zealand city?
Quite a lot, it turns out. Rotorua is not a town to rest on its laurels and new activities have sprung out of its rich geology and adventurous people.
I drive out towards Taupo and pull over next to the banks of the Waikato River. One of the best ways to enjoy the region's scenery is from the water, and the latest craze is called The Squeeze - a cocktail of adrenaline, adventure and utter relaxation.
It's a three-hour round trip in a super speedy Bond-style jetboat. We head downstream at a leisurely pace, gliding through the emerald waters of Tutukau Gorge and past the Orakei Korako geothermal park. Our skipper, Dave Hooton, steers away from the main stretch of river and guides the boat into a narrow creek. It's time to strip off and let The Squeeze begin.
Wearing swimsuits and dry tops, we wade through chest-deep luke warm water towards a gap in the moss-covered cliff, known locally as "The Cut". We literally squeeze through, then for the next 20 minutes clamber over boulders, manouevre through crevasses and negotiate stones and logs blocking our path. Then, tucked behind rocks, we see our destination - the most gorgeous waterfall crashing into a pool of warm water. I lower my head and let it pummel my shoulders, before sitting back and peering through a curtain of white water.
My natural spa leaves me droopy-eyed, but I'm jolted awake on the ride back to base. Dave hits the accelerator and the jetboat skims along the surface, narrowly missing overhanging branches and floating debris. There are some white-knuckle moments as we spin full circle, showering spray everywhere.
I'm energised as I drive to my next stop on the other side of Rotorua. It's easy to miss the little sign pointing to Joe Kemp's sculpture gallery on the banks of Lake Rotoma, and it turns out to be typical of this artist's modesty. Hidden behind his home on the road to Whakatane is a real gem. Wooden steps and trails weave under a canopy of native trees - his contemporary Maori art moulds into this natural environment perfectly. Wood and stone are his favourite materials, while many of his pieces depict human shapes and faces.
"It connects me with my ancestral history," he says, sipping a cup of kawakawa tea.
Joe's sculpture trail also features work by other New Zealand artists, which is generous exposure for the opposition. "Well, we're all on the same waka," he says, smiling. "It's a struggling gig and we all work hard so it makes sense to work together. It's handy being Maori because there's only a handful of us to a big world of art lovers."
It's time to head back to Rotorua for an evening of music and fine food at the Blue Baths. It's a show called Stars at the Baths and a must for anyone who enjoys singing along to toe-tapping classics and doesn't take themselves too seriously. Men are handed a fedora, and women a feather boa as we sashay into the dining room to our candlelit tables. A suited and booted waiter takes our orders and Marilyn Monroe works the room purring, Diamonds are a Girl's Best Friend.
Our delicious three-course dinner is punctuated by tribute acts from the Rat Pack, Elvis Presley and Abba, and, by the end of the night, we're all on our feet dancing.
The following day I'm glad of some gentler activities - the 1.4km hedge maze near the Agrodome is a great way to while away an hour or so. But don't underestimate it - even the best navigators will get lost.
Just up the road is the Wingspan Trust, the country's only bird of prey centre. They hold an aerial display every day at 2pm and it's a chance to see New Zealand's fastest bird, our rare native falcon, in full flight.
Traveller's tips
* On the way:
Tirau is the perfect place to stop between Rotorua, Taupo and Auckland. Character cafes, gift shops and a toy museum in The Castle Pamela. thecastle.co.nz
* Where to stay:
Regent of Rotorua, 1191 Pukaki St, Rotorua. Prices start at $179 per night. regentrotorua.co.nz, ph (07) 348 4079
* What to do:
The Squeeze
Take SH5 towards Taupo and turn right on to Tutukau Rd. NZ Riverjet is next to the Mihi Bridge. Daily at 11am, and 2pm on demand. Adults $130, children $75. riverjet.co.nz, ph (07) 333 7111.
Joe Kemp Outdoor Gallery
About 30km outside Rotorua toward Whakatane. For opening times call 027 248 2831 or email joe-kemp@xtra.co.nz
aMAZEme
1335 Paradise Valley Rd, Rotorua. Open seven days, winter 10am-4pm, summer 9am-5pm. Adults $15, children $9, family $45. amazeme.co.nz, ph (07) 357 5759
Wingspan Trust
1164 Paradise Valley Rd, Rotorua. Daily 9am-3pm daily. Displays at 2pm. Adults $25, children $8. wingspan.co.nz, ph (07) 357 4469
Stars at the Baths
Government Gardens, Rotorua city centre. Doors open at 6.30pm with a welcome drink. The show begins at 7pm with dinner and live entertainment. Three times a week from November 1 with intermittent performances until then. $125 per person. bluebaths.co.nz, ph (07) 350 2119