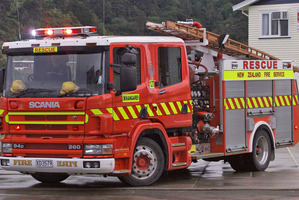 Photo / File
A man suffered burns to his arm in one of three suspicious house fires in Christchurch overnight.
No one else was in the house on Kerrs Rd in Wainoni when firefighters were called about 3.30am.
The man suffered minor to moderate burns to his arm and was taken to Christchurch Hospital for treatment, an ambulance spokesman said.
Fire Service southern communications shift manager Andrew Norris said the blaze was one of three suspicious house fires in Christchurch overnight.
The other suspicious fires were in abandoned red zone houses, both of which had been damaged by fire before.
Mr Norris said firefighters were called to a house on Avonside Drive at 8.15pm yesterday and on Aldershot St in Aranui at 5.30am today.
The previous fires at the properties had been some time ago, he said.
"So it's not like they are re-ignitions or anything like that - they've both been torched again."
Fire investigators would investigate all three fires today.
Investigators would also try to establish the cause of house fire in Ohau, south of Levin.
Fire Service central communications shift manager Murray Dunbar said the fire at a property on State Highway 1 was reported shortly before midnight.
Firefighters from Levin and Otaki extinguished the blaze.
Do you know more? Send your story, photos or video here.
- APNZ