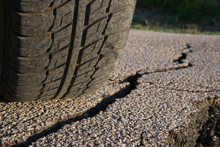 A drunken partygoer who drove over a sleeping mate - then nearly killed him by reversing back over him to check what he'd run over - narrowly escaped jail today.
Beau Stade, 20, had been drinking bourbon and colas and playing drinking games with friends in Christchurch when he got behind the wheel of his car in August last year.
But as he drove away from the party, he felt a "bump" - and reversed back to see what he had driven over.
It was his mate Daniel Brunsden, lying on the ground with life-threatening injuries.
Christchurch District Court today was told Mr Brunsden was lucky to be alive, having spent two months in a coma, and four months in a critical condition at an intensive care unit at Christchurch Hospital with a punctured lung, broken ribs, lacerated spleen, and a fractured pelvis.
In sentencing Stade today to seven months' home detention and an emotional harm payment order for $15,000 to his victim and pal, Judge Jane Farish told him he'd escaped a jail term by "a very narrow margin".
She said she thought the victim would "benefit greatly" from the emotional harm money, and wanted to hold Stade "accountable for a very long time".
Stade pleaded guilty earlier to a charge of injuring Mr Brunsden by careless driving while under the influence of drink but not having committed an offence under drink-driving laws.
He also admitted a charge of giving police false information.
A court was earlier told that Stade had been drinking with friends at a house in the eastern suburb of Linwood on August 19.
Police prosecutor Sergeant Mary Berryman said: "The accused drove out the driveway and felt a bump. He drove backwards to see what it was and realised he had driven over the victim, who was seriously injured.
"He phoned 111 and then hid his Mitsubishi vehicle in a garage, and informed police he did not know the victim had received injuries.
"With the information the police believed he was the victim of a hit and run.
"The victim received serious life-threatening injuries and police initially considered it as a potential homicide inquiry. There was a waste of many hours of police resources.
"Later, the accused admitted that he lied to police. He had said he didn't know why he'd lied."
Judge Farish said the victim was "lucky to be alive" after being run over twice by his "good mate".
"His (Brunsden's) life changed forever on August 19," she told Stade in the dock.
"It is unlikely he will ever get back to his former self.
"I don't know if you've read his victim impact statement but it makes for pretty grim reading."
Mr Brunsden is now being cared for by his mother and sister, and can't walk properly, dress properly, can't use his right arm, speaks very slowly, and goes to physiotherapy sessions every day, the court heard.
Stade's solicitor Michelle Barrell said the victim and her client were now making contact with each other and "going some way to mending their relationship."
She said that on the night, after the friends had been drinking heavily together, it would have been difficult to see Mr Brunsden lying in the dark on the driveway.
"Even without alcohol, most people wouldn't expect someone to be lying in the driveway," she argued.
- APNZ
By Kurt Bayer @KurtBayerAPNZ

Email

Kurt