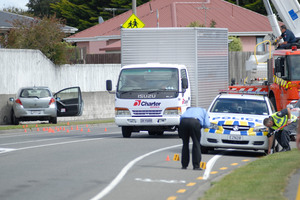 A man accused of a violent knife-wielding rampage across Christchurch has been deemed fit to plead to charges that include attempted murder.
The 27-year-old Somali man, whose name is suppressed, is accused of the kidnapping and stabbing of Christchurch delivery driver Marteine Robin and a Christchurch City Council worker in a drama that ended with the man being shot by police.
He was excused from appearing in the Christchurch District Court this morning after a letter was received from the Canterbury District Health Board.
But his lawyer Alister Davis told the court an assessment of the man had found he was fit to plead to the charges against him. Mr Davis had earlier raised the issue of his client's psychiatric state.
The man is being held in custody but may be transferred from Christchurch Hospital where he was treated for the gunshot wounds, to Hillmorton psychiatric hospital before his next court appearance.
A post committal conference is scheduled for May 18.