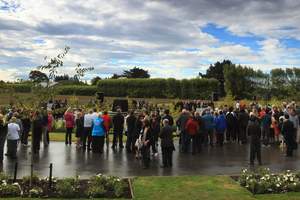 The second anniversary of the deadly February 22 earthquake comes at a "crucial turning point" for Christchurch residents facing physical, mental and spiritual exhaustion, says the city's Anglican Bishop.
A one-hour civic memorial service will be held at midday tomorrow in Latimer Square, used as a makeshift triage centre on that day two years ago when 185 people died.
There'll be a minute's silence at 12.51pm, when the magnitude-6.3 quake struck.
Bereaved family members and seriously injured survivors will be joined by guests including Prime Minister John Key, Christchurch Mayor Bob Parker, politicians, senior officials from the emergency services, and dignitaries from Japan, Philippines, Israel, Turkey, Canada, China, UK, Taiwan, USA and Australia.
Anglican Bishop of the quake-damaged Christ Church Cathedral, the Right Reverend Victoria Matthews, will lead a prayer at the service.
She says the anniversary is a time for remembrance but also a time for hope and healing.
Hope is what keeps the rebuilding city going, she said, but it is hard when the grief is also so present.
"What makes it hard is that the aftershocks continue both literally and metaphorically," the Bishop said today.
"We are surrounded by the visual reminders of February 22 and that brings back the memories of the day and its aftermath.
"Then of course we also are interacting with tourists who are seeing it all for the first time. That can be an interesting juxtaposition."
With the civic agenda dominated by the city rebuild, often the question of what will replace a building is asked before the former structure has come down.
Bishop Matthews says such rapid change brings emotions and exhaustion as well as excitement.
"But let's be honest, community is about people more than buildings and so 'fun days' in the various neighbourhoods have done much to build relationships and sustain a sense of community," she said.
Bishop Matthews suggests families and individuals take the opportunity on the anniversary to pause and remember what they have lost, question how they are different because of the past two years, and to know what they are thankful for.
"Gratitude strengthens us, just as grief and sorrow tend to deplete our energy and will," she says.
"In a spirit of thankfulness, February 22 may be a good day to resolve to volunteer to assist those who are still hugely disadvantaged by the destruction."
While there is a great deal of change in the central business district Bishop Matthews says it is important to call for an equal focus on the badly quake-hit eastern suburbs.
- APNZ