Risk of unstable buildings not enough to deter criminals from hitting Christchurch's suburban red zones.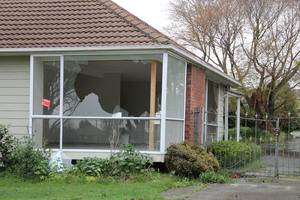 Abandoned quake-damaged neighbourhoods in Christchurch are proving rich pickings for criminals, with burglars risking entry to unstable buildings to strip out anything of value.
As residents have deserted the red zones - where it is deemed too expensive to repair the land - thieves have found opportunities to operate with much less risk of being seen.
Some homes have possessions left in them that owners have handed over to the Government or insurers, while even properties that have been emptied have the likes of hot-water cylinders and copper wiring to steal.
Even the risk of being inside unstable buildings is not enough to put some off, said head of the Canterbury police volume crime unit Detective Senior Sergeant John Rae.
"If the building is being demolished, and you're prepared to get under the floors or whatever to get the pipes and bits and pieces out, you're asking for trouble."
Police have put extra patrols into the red zone areas, but "the areas are quite extensive and it's not possible to be everywhere at once", Mr Rae said.
Figures released to the Herald on scrap metal burglaries show that Christchurch's quake-hit eastern suburbs are where most of these burglaries are happening.
Mr Rae said there were areas where there might only be one house occupied, or no houses occupied.
"Anecdotally, there seems to be people camping in some of these houses. Not from the point of view that they're homeless, but to drink, steal, burgle, do whatever they like to do there," Mr Rae said.
The Canterbury Earthquake Recovery Authority (Cera) says in order to provide confidence to people still living in the red zones, it is "working closely" with the public, Community Watch, contractors and security firms doing patrols in those areas.
"We also meet regularly with police and Fire [Service] to discuss any potential issues," said a Cera spokesperson.
The numbers
Between January 1 and June 1, 2012, in Canterbury:
931 vehicles reported stolen, including:
283 Nissans (76.3 per cent recovered),
118 Toyotas (61 per cent recovered)
99 Subarus (65.3 per cent recovered)
595 of the 931 have been recovered (63.9 per cent)
(Vehicle figure does not include thefts of 76 motorcycles, 4 farm bikes and 73 trailers).
The series
Monday Auckland City
Tuesday Waikato and Bay of Plenty
Wednesday Waitemata
Yesterday Manukau
Today Christchurch.