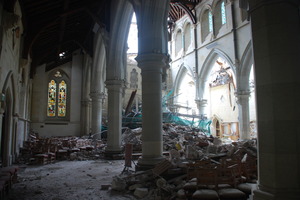 Prime Minister John Key says his understanding is that Christchurch Cathedral needs to be demolished, but it is up to the Anglican Church to consider a proposal to save it.
The Great Christchurch Building Trust has commissioned an independent report by engineers that proposes a method to retain much of the earthquake-damaged building.
The church, as cathedral owners, had come to the view the building needed to be deconstructed because of safety issues and the uneconomic cost of repair.
It now says it will consider the trust's proposal, which recommends tunnelling in and using a metal "safe haven" from which workers can further strengthen the damaged structure.
In Christchurch yesterday, Mr Key said he had not seen the trust's proposal but had spoken to Earthquake Recovery Minister Gerry Brownlee about it.
"My understanding is there is a temporary halt going on [with the deconstruction] while the Anglican Church have an opportunity to talk to the interested parties."
He said it was for the church to decide if there was a realistic method of saving the building.
"The advice that the Government have earlier had, and I haven't had anything to contradict that at this point, was that the building needed to be demolished for safety reasons," Mr Key said.
"You can dance on the head of a pin about whether it's ultimately brought to the ground or whether essentially a couple of walls are left up and it's then rebuilt in that condition."
It would be nice to incorporate some of the old into a new cathedral, he said.
"It's a much-loved building. It's a great tragedy that the earthquakes inflicted that level of damage to the building. But it has to be safe for people when they ultimately go into it.
"My own view is that it is important Christchurch has a cathedral. That site was zoned for a cathedral. It's not called Cathedral Square for nothing."