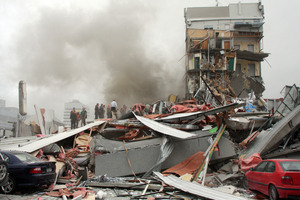 An inspection of the CTV building conducted without the expertise of an engineer was "a one-off'' in the confused days after the September 4, 2010 earthquake, a council chief admitted today.
Christchurch City Council building consent and building policy manager Steve McCarthy tasked three council workers to inspect the six-storey structure for damage three days after the 7.1-magnitude jolt.
The CTV building collapsed in the February 22, 2011 quake, killing 115 people.
Today he told a royal commission hearing that he did not know they were going to conduct a detailed 'Level 2' assessment.
"I don't believe that would have been my expectation,'' said Mr McCarthy. If he did, he would have instructed a structural engineer to do do, he said.
The three-man rapid assessment team of Graeme Calvert, Russell Simson and Dave Flewellen - who all gave evidence last week - were told by Mr McCarthy in a "five to 10 minute'' briefing to check the building for any obvious dangers to public safety.
"I told them to use their best judgment,'' he said.
"I remember discussing vaguely that there were no engineers available, but... I had confidence they would do the right thing.''
He said he expected them to have called for an engineer if they were conducting a 'Level 2' assessment - an inspection which requires closer examination of the building's interior and exterior, with the expertise of a structural engineer.
And while there was a shortage of engineers, he could have got one to the building from another site, he said.
But the team decided to green-sticker the building without seeking further help on the day, judging damage to be from 0 per cent to 1 per cent.
However, the trio reached the right outcome, Mr McCarthy said, by telling the owners to consult their own engineer, which they did shortly afterwards, "superseding any council inspection''.
Following questions, Mr McCarthy accepted that the rapid assessment process should be reviewed - especially the coloured sticker system - as the public did not understand them.
The Canterbury Earthquakes Royal Commission hearing, which started last Monday and is due to last eight weeks, is examining why the building collapsed.
Earlier today, a quantity surveyor told how the CTV building suffered only minor "visual'' damage after the September 4, 2010 earthquake, estimating it could be fixed with $290,000 of repairs.
Leonard Pagan concluded that the six-storey building "didn't look that bad'', telling the royal commission hearing today that he had "certainly seen far worse'' in the Christchurch city centre after the magnitude-7.1 quake.
He spent three to four hours walking through the building with manager John Drew and David Coatsworth, a structural engineer from local firm CPG, on September 29.
He noted hairline cracks "of no significance'' and plasterboard damage mainly on the western walls, as well as some broken glass panes on the Madras St frontage.
"I had certainly seen far worse in the CBD by this point,'' Mr Pagan said.
Mr Coatsworth, due to give evidence at the hearing tomorrow, mentioned that he would like to conduct a more detailed examination, which Mr Pagan thought might have been in reference to the southern shear wall.
Mr Pagan, of Rawlinsons Ltd, produced a report for Mr Drew which estimated the cost of repairs would be $290,000, excluding GST.
He told the hearing that he expected to receive a copy of Mr Coatsworth's structural engineer's report, but had not received one by the time it collapsed in the February 22, 2011 quake, killing 115 people.
The hearing yesterday heard from building manager Mr Drew, who thought the concrete office block "felt strong'' after the seismic jolts of September 4 and Boxing Day 2010, contradicting earlier evidence.
"I had complete faith in the structural integrity of the building. I never for a minute thought the building might have been at risk of collapse,'' he said.
The hearing continues tomorrow with three more witnesses giving evidence on post-quake assessments, including Mr Coatsworth.
- APNZ