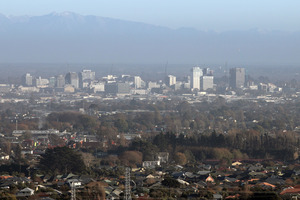 Quake-hit Christchurch community and sports groups are the big winners in the latest round of earthquake appeal cash announced today.
Almost $100million has been pledged to the Christchurch Earthquake Appeal Trust since it was set up in the wake of the killer February 22, 2011 shake.
It has already handed out millions to worthy causes, and today it announced the latest winners.
The second round of the Vodafone Foundation Canterbury Fund - a joint initiative between the Vodafone Foundation and the trust - has revealed that up to $4m in funding is available for community groups to apply for.
The fund awards grants from $5000 to $50,000 to grassroots organisations, with an emphasis on youth-focused projects and capital or infrastructure projects.
A total of 48 groups received funding in the first round.
Meanwhile, Christchurch sports groups received a $2m boost from the fund today.
Hockey received $1m to help build a third hockey turf at Nunweek Park in the city.
The home of Canterbury hockey, Porritt Park, on the banks of the Avon River, was destroyed in the September 2010 magnitude 7.1 earthquake.
The trust says the new pitch will provide Canterbury's 4000 hockey players with an additional turf to practice and play on at Nunweek Park, relieving some of the demand for turf space in the city.
Rowing, which also lost key facilities to earthquake damage, have been granted $576,000 to build two-boat storage sheds, toilets and a security fence at Kerr's Reach, and one boat shed at Stewarts Gully.
Bowls received $145,000 to repair greens at 14 clubs - Beckenham, Papanui, Woolston, Canterbury, Cashmere, Dallington, Edgeware, Elmwood, Parklands, South Brighton, Spreydon, Sumner, Tai Tapu and Woolston Park - and cricket won $233,000 for repairs to grounds at Garrick Park, Sydenham Park, Elmwood Park and St James Park, and the Heathcote Cricket Club's pavilion.
KiwiSport programmes in the hard-hit eastern suburbs can now help more than double the number of kids with a cash boost of $388,980.
A further $40,000 went to the Christchurch Primary Schools' Cultural Festival 2012, and up to $200,000 to help temporary business accommodation in Waimakariri district towns of Rangiora and Kaiapoi.
- APNZ