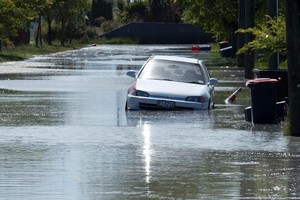 Aftershocks still shaking Christchurch will continue over the next few weeks, says a seismologist.
A magnitude 5.8 followed by a 6.0 magnitude earthquake struck off the coast of Lyttelton on Friday afternoon, causing liquefaction to once again erupt from the earth and leaving sewerage, water and power out of action in pockets of eastern Christchurch.
A series of "intense'' aftershocks have followed, and "hundreds and hundreds'' were recorded by GNS in the 24 hours following the two major quakes, said seismologist Bill Fry.
Aftershocks have continued over the weekend, some reaching over magnitude 4.
By 9am today, the GNS website showed six aftershocks since midnight ranging from magnitude 2.9 to 4.1, and all recorded 10km east of Christchurch.
GeoNet project director Ken Gledhill said the last night was "a bit more active again''.
"[Christmas Eve night] had been quite quiet, and Christmas day was reasonably quiet too.''
The amount of aftershocks had died down considerably since the rolling aftershocks recorded on Friday night, he said.
"There's much fewer than the first night. Friday night was one on top of the other, almost, through the night.
"This is a kind of normal aftershock pattern and they'll all calm down now if everything goes reasonably. You could still get a magnitude 5 in this sequence, I suspect, but most of them will just tail off. But it will take a few weeks before it gets back down to what it was before the 23rd.''
He said New Years Eve could be a bumpy one for those in the Canterbury area.
The six quakes recorded since midnight last night were "close to where the main events were on Friday'', and most of the aftershocks were expected to cluster around there.
The rest of the region remained relatively calm, he said.
"There's not that much activity we're seeing the rest of Canterbury at the moment, but we're focusing on the aftershocks rather than the rest of the activity.''
He said the aftershock sequence looked similar to the June sequence, where there were a couple of main events which tailed off "reasonably quickly''.
- APNZ