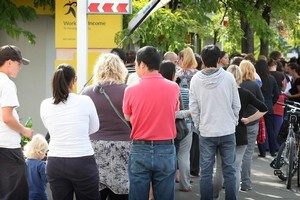 Applications for financial support following last week's deadly Christchurch quake are flooding in.
More than 8500 applications, covering more than 20,000 people, had been received for financial support packages, Social Development Minister Paula Bennett said today.
"Most applications are straight forward and over 14,000 people have already been approved," Ms Bennett said.
"Some are taking a little longer because they require manual data matching with IRD or have exceptional circumstances that need to be considered."
Since Monday, 10,533 staff, 2559 sole traders and 987 individual employees had been approved for the Earthquake Support Subsidy and Job Loss Cover.
"Payments should be processed quickly and we are getting some good feedback from relieved employers," Ms Bennett said.
Eight Work and Income offices were open around Christchurch today and seven mobile vans were taking applications in the hard-hit suburbs.
Meanwhile, Minister for Disability Issues Tariana Turia has encouraged disabled people in need of assistance because of the quake to ask for help.
"People with disabilities may feel reluctant to ask for assistance," Ms Turia said.
"In Christchurch there are organisations and service providers in place ready to support disabled people with their specific needs.
"The Government helpline, 0800 779 997, is open to take your phone calls for any help you may need. If you are disabled, or a carer of a disabled person, and you require help, please contact the number."
- NZPA