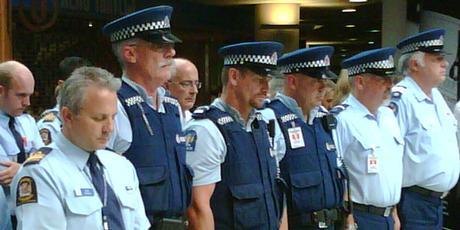 New Zealanders have paid tribute to the victims of the Christchurch earthquake with two minutes' silence marking the moment the disaster struck last week.
The shallow 6.3 magnitude quake centred at the port town of Lyttelton struck at 12.51pm last Tuesday, killing at least 154 people, with police expecting the final toll to reach "around 240".
Urban search and rescue (USAR) teams from New Zealand and abroad gathered at the Arts Centre to stand with Mr Key, his wife Bronagh, Christchurch Mayor Bob Parker and Labour leader Phil Goff.
They stood at the intersection of Montreal and Worcester Streets looking toward the Cathedral and the devastated CBD.
As the hundreds stood with heads bowed many of those gathered became visibly upset, with some reduced to tears.
When the silence period finished many stayed to talk and comfort one another.
Christchurch Airport
Carol Mutch was among the hundreds of people at Christchurch International Airport observing the two minute.
Some, including many foreign nationals, bowed their heads, others comforted colleagues, some just stared blankly at the floor.
Ms Mutch began crying when the silence fell, wondering if her friend's son was among those still to be pulled out of the Pyne Gould Corporation Building where rescue crews are working.
"I just spoke with her this morning and she heard there were three more bodies that had come out of there. We're not sure if his was one of them," she said.
Ms Mutch believed New Zealanders should commemorate the occasion every February 22 at 12.51pm from now on.
"We are always looking for another national day and maybe this is a day about celebrating who we are as New Zealanders and about recognising the strength in our communities."
'Standing together'
Christchurch Mayor Bob Parker earlier told TVNZ that the silence was about everyone "standing together", regardless of where they were.
"This is the first time we will all reflect in a month."
Mr Parker said the spirit of people, particularly in the badly-hit eastern suburbs, was "amazing".
"We've lost people, we've lost iconic buildings, we've lost our Cathedral in the heart of the city..."
"How can this happen to our place?"
Churches mark silence
For 10 minutes after the silence, the Wellington Cathedral of St Paul near Parliament rang its bells in a half-muffled peal to acknowledge those who lost their lives.
Australia's Parliament also observed the silence.
Governor-General Sir Anand Satyanand and Lady Satyanand, Deputy Prime Minister Bill English, church and faith representatives, MPs and overseas diplomats attended a service on the steps of Parliament at 12.30pm. Some 4000-5000 people also gathered in Parliament's grounds.
A service was held at the same time in Auckland's Anglican Cathedral and attended by leaders of city churches, Mayor Len Brown and local MPs.
Services were also taking place in other Anglican Cathedrals.
Catholic Cathedrals in Auckland, Wellington and Dunedin tolled their bells before the two-minute silence.
Monsignor Bernard Kiely of St Patrick's Cathedral in central Auckland said he expected several hundred people to attend a 12.15pm mass and other services took place throughout the country.
- NZHERALD STAFF, NEWSTALK ZB, NZPA and AGENCIES