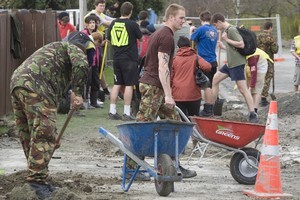 Communication with Canterbury quake victims could have been better, the Earthquake Commission (EQC) said today.
Tens of thousands of Cantabrians suffered damage to their homes in the September 4, magnitude 7.1 earthquake.
Appearing before Parliament's commerce committee today, EQC chairman Michael Wintringham said the organisation had learned lessons from the quake that had left them better prepared for future disasters.
Communication with the public in the early stages of the response had been of particular concern, he said.
"Fundamentally, we're not going to get an adequate communication until each individual person has been met by somebody from EQC, their personal circumstances assessed and they are told individually what's going to happen," he said.
"With this particular event, there were a couple of things which we might have done better, but I think that there are some constraints that in any event we're going to be struggling with.
"Probably in the first week we might have got up earlier with some of the public communication about 'what is our role, what is going to happen' ... but that would probably be a matter of days rather than weeks."
EQC chief executive Ian Simpson, who also appeared before the committee, said there had been a number of problems with call centres.
"One of the reasons they were so busy in the first couple of weeks is that we'd receive a call from somebody and we'd be hearing back within seven days to know when the house was going to be fixed, which is understandable but in many cases we won't have that information until next year," Mr Simpson said.
Mr Wintringham said if the EQC was faced with the same situation again it would be able to respond better.
"Will we be able to guarantee that we can always be able to meet public demand? Probably not. But can we react far more quickly and can we collaborate with other partners in the industry to do that, probably."
He said the way the quake had been portrayed to the public did not reflect the true severity of it.
"Although nobody died and serious injuries were few, it seems to have taken away some of the publicity that this is by world standards a very large event."
The EQC had received more than 160,000 claims to date, but that many were multiple claims for contents, land and building, and the actual number of claims exceeded 190,000.
"By way of context, if you take probably the biggest natural disaster in recent memory, Hurricane Katrina, $100 billion of damage, around 600,000 claims, well we've got nearly a third of that at EQC and private insurers have got in the order of 50,000 in total for residential claims."
Mr Wintringham said a review of the EQC's response was likely to take place in the first half on next year.
- NZPA