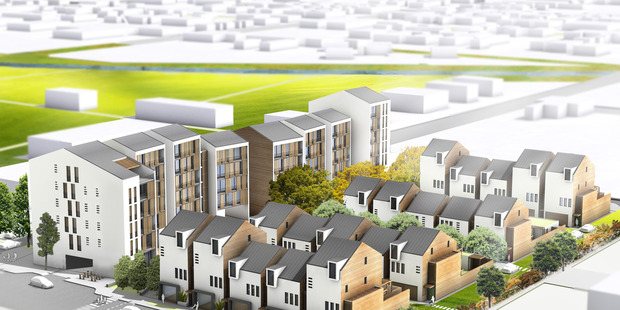 An Italian design consortium has won a global Grand Designs competition to build a new urban village as part of post-earthquake Christchurch's rebuilt city centre.
Kevin McCloud, presenter of hit dream home TV show Grand Designs, made the announcement inside the temporary cardboard cathedral tonight.
A consortium of Anselmi Attiani Associated Architects, Cresco Group and local building firm Holloway Builders beat off three other finalists - two from New Zealand and one from Australia - in the Breathe: Urban Village Project competition which attracted 58 entries from 15 countries.
Judges were impressed by the "well-considered and mature scheme" to build 72 timber-clad affordable flats and terraced houses, designed to "stand the test of time".
"This scheme is designed for the longer game and would be quite an exciting opportunity to do something different," the judges said.
The use of new earthquake-resistant technology, as well as shared green space, also played a key role in securing the contract to build the CBD's newest housing development.
Anselmi Attiani's main premise was to create a medium-rise urban village that encourages residents not only to make it their permanent home but to "embrace the idea of forging a cohesive and family-like community".
"This is a well-considered and mature scheme that builds on a vernacular of timber dwellings in the area," McCloud said.
"It imports some of the more progressive international ideas in public realm design."
The finalists were given $20,000 to develop their concepts, with the winning design being built on the former Charlie B's Backpackers site on the corner of Gloucester and Madras streets, opposite Latimer Square.
Work on the privately-led development is expected to start within a year, with properties expected to sell for $300,000 - $900,000.
The competition was a collaborative partnership between the Christchurch City Council, the Ministry of Business, Innovation and Employment, Canterbury Earthquake Recovery Authority (Cera) and Ngai Tahu.
Judging panel chairman, architect Stuart Gardyne said there was a "beauty and maturity" about the scheme.
"Space is well defined and thoughtful and there is a balance and clarity as to what is private and what is communal," he said.
"It is extremely well done and any city would benefit from having a scheme as desirable as this in place."
Mayor-Elect Lianne Dalziel said the competition had energised thinking around central city residential construction.
"Christchurch will be setting the standard for high quality modern inner city living."
The Government wants more than 20,000 people living in the rebuilt central city, which Prime Minister John Key and Earthquake Recovery Minister Gerry Brownlee have said they hoped would be "one of the best small cities in the world".