Work starts on stand-in for Christchurch's shattered church as council defers city's long-term rebuild plan.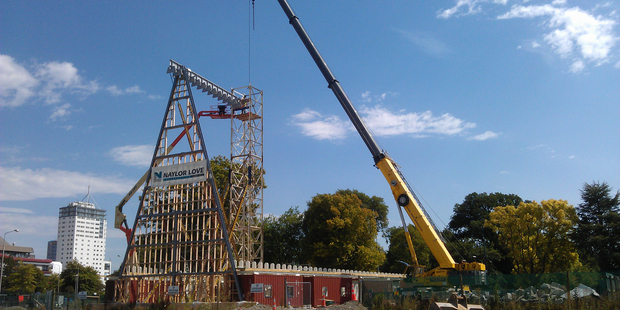 Work began yesterday on the skeleton of Christchurch's temporary cathedral. The first cardboard cladding tubes, each weighing 120kg, were installed to shape the $5.3 million A-frame building.
A total of 320 tubes will be used. It's hoped this stage of building will take only about a month to complete, said Stephen Lynch, project manager for Naylor Love Construction.
"Any kind of winds at all and we'd have to stop lifting - it's programmed four weeks to get all the cardboard tubes into place but it's very weather dependent," he said.
Designed by leading Japanese "emergency architect" Shigeru Ban, the 700-seat transitional cathedral is going up on Latimer Square. It will stand in for the badly damaged Christchurch Cathedral in Cathedral Square and should be finished by April.
While described as temporary, the cathedral is being built as a permanent structure with an expected lifespan of more than 50 years.
Construction began as the city's council deferred its post-earthquake long-term plan for two years after the Government said more time was needed to form a blueprint. The council was due to release a draft plan for rebuilding the city this month.
Earthquake Recovery Minister Gerry Brownlee and Christchurch Mayor Bob Parker announced the decision which, they said, would allow an earthquake recovery cost-sharing method to be mutually agreed.
Under the Local Government Act, the council is required to begin consultation on its long-term plan in March. Now, the council will undertake a new plan, to be called the Christchurch City Three Year Plan, and will start consultation next month.
- APNZ