Struggling NRL team are already facing a crisis and playing at the dud Mt Eden ground is just the last straw.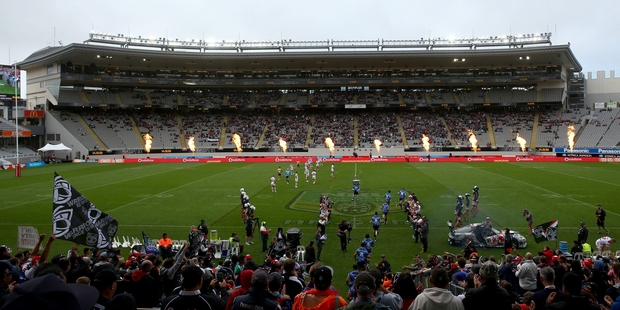 Hey Mr Mayor and anyone else in charge. This one is aimed at you.
The Warriors are speeding towards further and maybe fatal disaster unless they are rescued from Eden Park. Nearly two decades after the nation stopped to witness professional league dreams turn to reality on the vibrant opening night, a nightmare continued at Eden Park in the latest loss, to the Dragons.
Having lost the first-round match to the struggling Eels, the Warriors were garbage against the Dragons and the atmosphere absolutely dreadful.
There must already be grave concerns about coach Matt Elliott's ability to build a team with spirit let alone finesse, going on last season's results and the half-hearted initial efforts this season.
We are faced with a mess, a crisis. An evaporating club identity is symbolised by the constant change of jerseys, a cynical money-making venture no doubt.
The rot set in years ago. Relentless changes of owners, chief executives, coaches, players and now grounds have ripped the Warriors apart, leaving a reliance on cheap tricks.
Troubling start for Warriors continues
The Warriors aren't strong enough to withstand the vacant lot that is Eden Park, a dud ground at the best of times. Sam Tomkins, from league-mad Wigan, will be wondering where all the people are. Blaming the threat of bad weather is a red herring.
The TV viewing experience was made even worse this time because the constant beat of drums was so audible and thus annoying. This isn't a Pacific Islands festival, troops. Officials who infest football games with horrible pop music make you hanker for rotten fruit and stocks.
The Warriors are supposedly dipping their toes into the home of rugby but the Auckland stadium merry-go-round is aiming the club at the giant ground good and proper.
The reasons and motivations aren't totally clear. The NRL has - according to Warriors chief executive Wayne Scurrah - deemed Mt Smart as unsuitable for finals and test football and a refit would cost a supposedly prohibitive $60 million.
But Mt Smart is still a much better experience for most NRL games and finals football is hardly an issue at the moment. Mt Smart drums up a decent atmosphere on low crowd numbers, and the fans can influence referees.
Mt Smart holds advantages and provides an identity, even if it is a bit old school. And while not perfect, it's not actually that bad.
Saturday's 14,000 crowd is typical, and even high. But scatter that around Eden Park, and say goodbye to home advantage and an enjoyable day or night out. A colleague who regularly attends Mt Smart described Saturday as "soul-less".
"It was my worst Warriors experience, and I've been to games where they've coughed up 20-point leads," he reckoned.
The disaster is being handled in a modern, political way involving smoke and mirrors.
The Warriors don't stand up and make demands of city leaders or tell us convincingly what is going on.
Maybe the Warriors actually want Eden Park in the mistaken belief they can attract and impress the wealthy set. This would fit in with a lot of the theories flicked around like the one that Elliott is a super coach.
The next solution will probably involve taking many Warriors' home games around the country - another form of death knell. I hope the city leaders watched Saturday's match and understood the calamity.