Why was Ali Williams, a lock whose limbs are crying 'enough', even picked for the wider training-group camp at the Mount?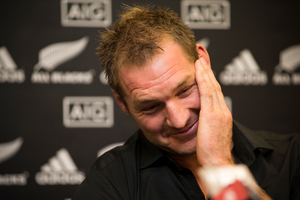 Forget the warm fuzzies over Ali Williams' retirement from the All Blacks, at least until one prickly question gets answered: what actually happened?
Not a lot to ask, I know, although it often is in New Zealand rugby land.
Williams, at his peak, was among the finest locks in the world with a style of his own. He certainly polarised opinion, but what would sport be without those sorts of characters.
He was a joy to watch at his peak.
But major injuries have had their say, and Williams is no longer test class. His 2015 World Cup prospects were on a par with the chances of Graham Henry and Wayne Barnes swapping Christmas tweets.
Many people asked why Williams was even picked for the All Blacks' wider training-group camp in Mt Maunganui. The general rugby public was genuinely mystified.
His selection was unfathomable, especially given the fabulous locking rotation involving Sam Whitelock, Brodie Retallick and Luke Romano.
The All Black selectors had actually created a wonderful opportunity, two years out from the next World Cup, to blood a fourth lock rather than hang on to a bloke whose limbs are crying "enough" and is struggling to keep up in the Super 15.
Maybe Steve Hansen had made such a public play of backing the veteran tight forward that he couldn't or wouldn't back down. Pig-headedness in other words. What followed was the usual PR guff, from all quarters.
Hansen claimed tough decisions had to be made this year around veteran players, a statement completely at odds with what happened in this case. Hansen hadn't made the tough decision at all.
He'd actually got the situation completely wrong. Bizarrely, he reckoned Williams had known that it was best for the team that a younger player take his place, which actually infers that Hansen himself had not known what was best. The whole palaver strongly reinforced the image of the All Blacks being an in-crowd, that senior players are running the show a la Richie McCaw's decision to go on a playing holiday right up to his return for the Sanzar test series.
So why labour this point? Because not only was the PR avalanche maddening and the implications revealing, but the captain of the Blues had been dragged away from his duties on a pointless exercise.
The All Black intrusion into the Super 15 season is bad enough, without it involving a needless mistake. Why, to take another tack, did a player with thick Blues blood running through his veins, to follow the party line, not make his retirement announcement before the camp and thus attend to the job of leading his young and erratic Super 15 team to the promised land.
It also called into question Hansen's judgment - doesn't this mean that the newcomer, who turns out to be Jeremy Thrush, has missed an early chance to get acquainted with standards and moves while swapping burnt snarlers with test veterans around the camp fire?
This drama also typifies the off-hand way the New Zealand rugby hierarchy treats the Super 15. As a friend (a mad Crusaders fan) said to me over the weekend, the NZRU wants him to invest in the Super 15 when it won't invest fully in the competition itself.
This came from an experienced media bloke who makes a point of defending and admiring the NZRU when we discuss the national game.
While Sir Graham Henry launched a bully-boy attack on a referee who had done a good job, his Blues comrade, Sir John Kirwan, fell into line instead of taking a shot at the NZRU for whisking his captain away before the loss to the Brumbies.
As for Williams and the Blues brigade, it's time to hand the captaincy to Luke Braid.
Unfortunately for Braid, he appears a half-notch below the All Blacks' requirements - making him perfect Blues captaincy material.
He's a wonderful player at the perfect stage and age to build a team and new era around. Maybe Williams will have to make that decision as well, leaving him free to rediscover as much as he can of his old game while helping support the new leader.