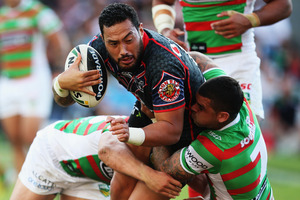 A thriller at Mt Smart Stadium, a close loss for the Warriors, and to draw a longish bow, a couple of questions.
Matt Elliott's Warriors were hot and cold in defeat against South Sydney but at least they sparkled at times, as opposed to the dross they served up in the initial NRL rounds before the morale-boosting win over the Cowboys.
The last-gasp play against South Sydney, which resulted in a comical kick from Simon Mannering, is typical of what's still wrong with the side. But at least the players appear to have awoken from a confusing slumber.
The first question is this: when are the Kiwis going to start delivering results to match New Zealand's growing influence in the NRL. The Warriors appear to have unearthed another terrific player in Ngani Laumape, who comes from the famed union stronghold at Palmerston North Boys High. New Zealand players are dotted all over the NRL, with more than a hundred spread around first and reserve grade clubs across the Ditch.
Yet the Kiwi test explosion remains on hold. The Kiwis play Australia in Canberra on Friday next week, the latest in an Anzac contest that does not do justice to the word contest.
Our Anzac results are lamentable. The Kiwis have won big titles in recent years, but they still don't deliver enough overall victories. Just as Queensland went from underdog to top dog against New South Wales, so the Kiwis need to believe they can overwhelm Australia.
Old Kiwi coaches operated on one thread of a shoe string compared to the riches available to Steve Kearney these days. In Issac Luke, Kearney has perhaps the best dummy half in the business apart from the great Cameron Smith. There are encouraging options in the other key positions. What seems to be missing, especially in the one-off early season tests, is enough belief. The time to deliver an Anzac victory is overdue.
Here's the other question. If Elliott can't deliver the wins with the Warriors, and the owners retain their faith in him, which way will he jump?
As a coach with no great record of success he may go down the conservative route, go back to what he knows, and start hunting for the robotic-type players that dominate in Australia. That's always the fear with Australian coaches, and a reason why it was such a shame that 2012 turned into a disaster for Brian McClennan.
The Warriors were built to thrive out of and drive the local game. The amazing talent is there - the club needs a first-grade coach to harness it in the tough NRL atmosphere and stay true to the traditional flavour of Auckland rugby league.