Sunday's match cause for celebration and a great advertisement for afternoon sport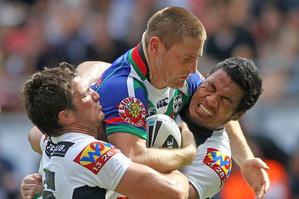 The sun shone on the Warriors in Brisbane on Sunday and lifted the gloom that often hangs over Auckland sport.
There's no need to labour the point so I won't catalogue the list of disasters here - suffice it to say that the region is fast becoming known as the Winless North.
Whether the Warriors are genuine NRL title prospects is a different matter, and the suspicion is that they are not, but a staggering performance against Brisbane has got the adrenalin flowing. They were absolutely superb, in resilience and flair.
League is a world of hyperbole and hope, which is suddenly springing eternal.
Sunday's match was certainly a great advert for something: afternoon sport.
The clear light, a lack of dew and the effect of the heat which tires defenders can produce the sort of extravaganza in which Ivan Cleary's side blitzed Brisbane with razzle-dazzle tries.
Cleary, an old pro, will be feeling chipper three games in, although realistically cautious. With the result hanging in the balance, the Warriors - surprise, surprise - were the team to find another gear.
Brisbane's sorry collapse was summed up when Peter Wallace, a State of Origin halfback, chased back lamely as James Maloney kicked through for a try.
Maybe Brisbane's shocker was summed up even more by the club's legendary halfback and current skills coach Alfie Langer, who responded by being photographed in his undies while dancing on a pub table before returning a seriously positive initial blood/alcohol test while attempting to drive home.
This is the club which, under the austere Wayne Bennett, sacked young blokes far less worldly than Langer for transgressions.
Club boss Bruno Cullen reckoned Langer had merely been out to a family dinner followed by a couple of drinks. Conclusion: the Langers are a colourful family, and they were very large drinks.
What a dreadful day for the once-mighty Broncos - whereas the Warriors had a day never to forget.
Brisbane have fallen from their finest eras, and their young side was missing influential centre Justin Hodges.
But there is a long way to go before any team can get carried away by a single performance.
Early form can be misleading, and the trick to NRL success is ensuring lessons have been learned, whether you are winning or losing.
Injuries, the great unknowns, will play a part, hurting some teams and thus helping others.
About the only thing you can be sure of, three rounds in, is that Cronulla are dreadful and that Melbourne will figure in the final chase.
Still, there are some really exciting and positive signs out of the Warriors.
The first is their overall energy level, something Brent Tate's return from another long injury layoff has undoubtedly assisted.
Last year's sombre and mildly pathetic season was stained with a lethargy the club tried to blame on over-worked players.
Secondly, a couple of the Warriors' smaller men are really showing out.
I am always flabbergasted by Lance Hohaia, who looks like a player that opponents should come to grips with, yet he continually tests out defenders and is getting better with age.
Rookie hooker Aaron Heremaia sparkled in Brisbane and has caught the eye from the word go this year.
The problem for Heremaia is he comes from a lower-grade background, has barely played 20 games at dummy half and will thus be tested in keeping this level up in a very tough league. Other teams will be much more aware of him.
Heremaia has come from the school of hard knocks and is grabbing a surprising and late chance at stardom which began last year.
A sharp dummy-half runner is so important, establishing momentum.
Heremaia is a real prospect, and showed two flashes of off-the-cuff inventiveness which brought tries against the Broncos.
And in Melbourne recruit Maloney - who had none of the pre-season publicity which the now-injured Brett Seymour attracted - the Warriors may have found a real deal halfback.
Melbourne is an excellent league school.
As I said, these are early days. Very early days. You could easily point out a few likely weaknesses, one of them being that Joel Moon is unconvincing so far at five-eighths.
The potential for losing trots - and the Warriors have had a few of those in their history - always lies ahead. One win in Brisbane does not automatically sort out their very poor record in Australia, nor act as a portent for a wonderful season.
But Sunday was cause for tremendous celebration, for a fabulous performance and the flamboyance that should always be a hallmark of the Warriors' game.