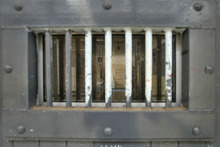 A Kiwi drug convict on death row in China is believed to have had her sentence commuted to life imprisonment.
It was reported in last week's Herald on Sunday, that the New Zealand citizen is thought to be the first condemned to death since Lorraine and Aaron Cohen in 1992.
A leading human rights source this week confirmed the Kiwi woman had recently avoided execution after spending two trouble-free years in prison. "She is sure to be being held in appalling conditions and will be there for many years," the source added.
The case has been shrouded in secrecy since the woman's arrest in Shenzhen in 2009. She is believed to have been handed the death penalty after aiding her boyfriend smuggle drugs. Possessing more than 50g of heroin or other drugs is punishable by death in China.
After being found guilty, the New Zealander was given a death sentence with a two-year reprieve, meaning the sentence could be reduced to life imprisonment after two years of good behaviour.
Foreign Minister Murray McCully said he had closely monitored the case. But the ministry this week continued to decline to name the prisoner.
"We are not able to provide any updates for privacy reasons," a spokesman said. "The family have requested that no details be released."
Auckland-based psychologist Dr Peter Schaapveld, who consults for international legal charity Reprieve, said the Kiwi prisoner will be at risk from other inmates and corrupt officials.
"Any foreigner will be a target in a Chinese prison and is likely to be a victim of ongoing financial extortion," he said.
"Conditions in Chinese prisons are notorious for being worse than medieval and she could be held anywhere."
Dr Schaapveld said executions were big business in some parts of China. He added it wasn't uncommon when a death sentence is carried out for teams of surgeons to be standing by to harvest organs from the deceased, which are then sold on.
By Russell Blackstock

Email

Russell