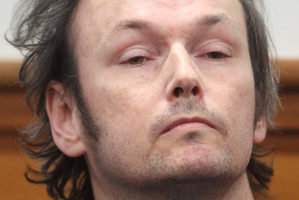 Christopher Grant. Photo / APN
The war against child pornography in New Zealand has resulted in o close to 200 convictions over the past five years, officials say.
A Rotorua man is the latest sent to jail after a Department of Internal Affairs investigation.
Steve O'Brien, who heads the department's censorship compliance unit, told the Herald his team was making a "major impact" nationally and globally, and its approach has been described as world-leading.
Forty-two-year-old Christopher David Harold Grant was sent to prison on Friday for three years after a tip-off from a US agency led investigators to him.
In December 2010, a complaint to the National Centre for Missing and Exploited Children in the United States revealed Grant had uploaded images of teenagers aged 13 to 15 in naked poses to a website three months before.
He was arrested as part of an international investigation which resulted in five arrests in New Zealand and 55 others in 20 countries.
Mr O'Brien said the most important part of his unit's work was that it involved innocent children.
"When we first started out, the priority was on finding the offender. Internationally, it has now changed so that the focus should first be on the children and [then] identifying the offender."
It was this approach that allowed international agencies to work together without any "patch mentality", Mr O'Brien said.
For the investigators, the work was "full-on", but that was simply the nature of the job, he said.
"There is a certain amount of reward that comes with catching people doing that type of activity.
"From the offenders' point of view, when they get into these communities, they are always talking with like-minded people and in some ways, they will try to validate their behaviour amongst each other. These people need help, and very specialised help."
In other recent serious cases, Papamoa Beach cargo fumigation technician Cameron Mark Dunn last month admitted possessing and distributing child pornography - including images of babies and toddlers being sexually abused - over three years.
In March, a Waikato businessman was sentenced to 10 months' home detention after he was caught sharing files with an undercover investigator online.
"We've shown over the years that we've made a major impact nationally and internationally," Mr O'Brien said.
"We're no worse than other countries but we're able to go after them proactively and, unlike some countries, have the appropriate laws to deal with them."
The head of Interpol's of crimes against children unit, Mick Moran, recently described the Department of Internal Affairs as a world leader against this type of crime and far ahead of a lot of bigger countries in terms of how it operated. Additional reporting by APNZ