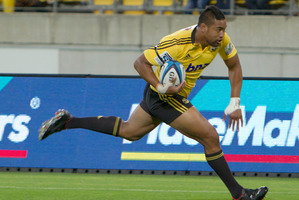 Making hay while the sun shines is old, cliched advice, but also perfect for Julian Savea as he weighs up respective offers from the Crusaders, Chiefs and Hurricanes.
There's a fair chance that at 23, Savea may be at the peak of his powers. That's how it has been with previous explosive wings of his ilk. Joe Rokocoko played his best rugby between the ages of 20 and 21. Remember him bombing down the wing in Cardiff, dummying the kick and accelerating again - he was just 21 and he probably never did anything quite like that again. By the time he was 27, he was no longer an All Black.
It was much the same for Sitiveni Sivivatu - deadly between the ages of 23 and 25, he began to decline after that and was out of test contention by the time he was 28.
Savea, at 1.88m and 105kg, looks a similar athlete but a different player - more aware, better hands, better work-rate. He has that same explosive power, is just as quick and brutal on the charge - unafraid to dip his shoulder and back himself to finish.
There are plenty of good wings around - Bryan Habana, George North, Alex Cuthbert, Israel Folau, Ben Smith and Gonzalo Camacho - but Savea is the pick of the bunch.
Of the current crop, none can match his strike rate. He has played 13 tests and scored 13 tries - one of which against Scotland last year was short-listed by the IRB as the best of the season. He's not only a spectacular scorer of tries, he's a scorer of spectacular tries and that matters - converting half-chances is the difference between winning and losing at the top level.
Having established himself and built his reputation, Savea needs to cash in and not be pilloried for doing so. Rugby is a short career as it is - for blokes in his position where out and out speed matters, it can be shorter still.
He'll look around the All Black changing room tonight and see two tight forwards well into their 30s. He might have the glamour role - but it's precarious. Unlike Andrew Hore and Tony Woodcock, Savea won't be at this lark at the same age. Fast twitch fibre doesn't wear too well and while props and hookers can get away with chugging, wings can't.
So if he decides to sign with the Super rugby franchise that has made him the highest offer, who could blame him?
It just so happens, fortuitously, that the highest offer is believed to have come from the Chiefs, who would also stack up as the best offer.
Playing for a champion side is never a bad thing. He'd also fall under the spell of technical director Wayne Smith, whose ability to develop the all-round portfolio of wings is legendary.
Smith was the man who did most to improve the All Blacks' skills under the high ball in 2010 and 2011. Savea is good aerially, but he could be better and by lessening his reliance on speed and finishing, he will potentially extend the length of his career.
But he shouldn't over-think this - just take the money and run.