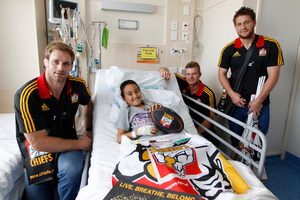 Chiefs rugby stars have shown support for their supporters by visiting Waikato's sick and injured children yesterday.
Players from the Super rugby side signed autographs, gave gifts and chatted with children at Waikato Hospital in Hamilton ahead of their game against the Crusaders tomorrow.
Craig Clarke, Kendrick Lynn and Tawera Kerr-Barlow were photographed with 8-year-old patient Kahnye Himiona, who recently had his appendix removed.
Waikato District Health Board chief operating officer Jan Adams said the visit was uplifting for patients and their families.
"Their energy has in turn energised the kids and their families. You can see by the look on their faces what a great time this has been for them."
The team visited wards and clinics, including the newborn intensive care unit, surgery and medical wards, day patients and the child development centre. Some of the donated merchandise will be auctioned for children's charities.
The Super rugby champions play the Crusaders in Hamilton tomorrow.