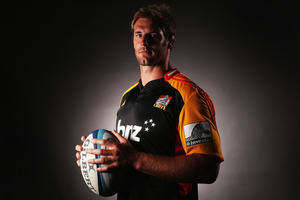 Selfless leadership was a legacy of the Chiefs 2012 Super Rugby title. Little looks like changing.
Yes, they've lost Sonny Bill Williams; yes, they face the threat of second season syndrome; and yes, their scrum will be tested in the absence of Sona Taumololo. However, the strength of character built by the management team of Dave Rennie, Tom Coventry, Wayne Smith and Andrew Strawbridge, combined with seasoned leaders such as Craig Clarke, co-captain Liam Messam and a host of veterans means the preparation to defend their title has been confident and meticulous.
Chiefs HQ at the Ruakura Research Centre, less than quarter of an hour east of Waikato Stadium, gives clues as to their pursuit of professionalism.
After signing in on arrival, you're ushered through for complimentary tea or coffee, then it's down a second storey walkway lined by the gym on one side and framed portraits of the franchise's '50 gamers' on the other.
The Herald on Sunday arrival coincided with jersey distribution time for the annual promotional photos. The first jersey on show has '6XL' printed on the collar tag. Mental note: Ben Tameifuna obviously hasn't picked up his jumper. A series of photo instructions are at the pick-up point. 1) head and shoulders photo = smile, 2) full length photo = smile, nice and tall, socks up and boots on, 3) profile with ball photo = smile, thoughtful.
A peek at the meeting room hints at further attention to detail. Muhammad Ali's "suffer now and live the rest of your life as a champion" gets valuable real estate on the whiteboard. Bullet points outline their season plans for paoa (attack) and tainui (defence).
The importance of Maoritanga is often emphasised, like on the squad's recent 86.6km coast-to-coast which included swimming, running, biking, walking, kayaking, water sliding and the odd stretch by car from Waihi Beach to Kawhia Harbour. According to legend, the original Tainui waka landed near Opotiki around 800 years ago and navigated around to Kawhia. Exhausted players replicated the final moments of that journey in double-hulled waka. A couple of hangi and team bonding helped ease the pain.
Co-captain Clarke says such novel pre-season strategies help them grow: "It's great to tie [Maoritanga] into everything we do. We've bought into it as a team. That includes our attacking strategy paoa which means 'to strike' and the defence mechanism tainui which means 'surging tide'."
Hooker Hika Elliot has been delegated a number of Maoritanga responsibilities, including the development of the franchise's own haka.
"Being fluent in te reo and coming from a Maori background, it's up to me to drive things," Elliot says. "The boys as well as the coaches have embraced things. We are unique representing the kingitanga [Maori king] movement of the region. I'm not sure any other franchises can claim quite the same link to an area."
The side performed the haka for fans after winning the 2012 title but it will mainly be used in-house for special occasions and leaving functions.
"Me, Lats [Tanerau Latimer], Liam [Messam] and Dave [Rennie] had influence over what we wanted the haka to represent," Elliot says. "Everyone bought into it. To perform it publicly after the final in front of family and friends was special."
Elliot says they've had endorsements of the team culture as a result: "For a guy like Sonny Bill [Williams] to say it's the best environment he's been involved with in league or rugby is something we can be proud of."
CLARKE, AN understated captain in the mould of a Todd Blackadder or Sir Brian Lochore, is central to how they turn preparation into performance. He is unflappable, even when team dag Richard Kahui tried to provoke a response during one interview by posing in front of him in Chiefs jersey and undies.
"It'd be a huge failure for us not to be successful again," Clarke says. "We need to be clear this is not last year's team trying to repeat; this is a new group trying to pluck the best things out of last year's campaign. We've found how we responded best to training loads and have struck a routine that works."
The 29-year-old, who also led Taranaki to the Ranfurly Shield in 2011, says former All Blacks captain Reuben Thorne is the rugby leader he has gleaned the most from in his career.
"Reuben was captain when I was in the Canterbury set-up. I was lucky enough to play club rugby with him, too. I remember him being a good guy but demanding, not so much through his voice but his actions. He was a straight shooter. I got on well with him and enjoyed his style of leadership."
Clarke returned from strained knee ligaments at the end of the last Super Rugby season to play for Taranaki. The knee's held up well pre-season. He still holds an ambition of making the All Blacks but that is on ice for now.
Another at the core of the Chiefs leadership is hooker Mahonri Schwalger. The 33-year-old was dropped as captain of Samoa after criticising what he felt was mismanagement at the World Cup. The Chiefs prefer to embrace his forthright nature, just like Counties Manukau coach Tana Umaga did during the ITM Cup. It's no coincidence that the Steelers won the Championship. Schwalger's leadership in his home country was illustrated when he spent two weeks helping after Cyclone Evan's devastation.
The Chiefs also recognise Schwalger could help galvanise the likes of Fritz Lee, Bundee Aki, Lelia Masaga, Ross Filipo, Augustine Pulu and Tim Nanai-Williams, all of Samoan descent.
"It's always about the team rather than the self; it's important to plant that seed. Dealing with issues like the one at the World Cup is really important and personal for me. I was brought up in a way where my parents always told me to speak the truth. [During the World Cup] Samoa had a lot of talented guys who had sacrificed a lot and it wasn't good to have professional players managed by unprofessional people.
"Actions always speak louder than words and that's why I've got to make sure I share my knowledge with this team, especially in the front row with younger guys [such as Tameifuna, Ben Afeaki and Toby Smith] all fighting to get Sona's spot. It's the same with me and Hika fighting for the hooking berth. We can't hold anything back.
"At the Chiefs, we're bringing together a whole host of different cultures. A lot of the guys are not totally used to the way things run in New Zealand so we've got to bring the best out in them and develop team spirit ahead of anything else."