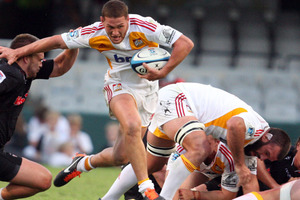 The Chiefs are hoping their resurgence on the field will lead to some surging through the turnstiles.
The Hamilton-based franchise is on a tear at the moment, winning their past seven games, including three on the road in Australia and South Africa, as they prepare to face the Hurricanes on Saturday night.
It's been more than two years since the Chiefs enjoyed any comparable success. In 2009, the Ian Foster-coached team recovered from a 0-3 start to win 10 of their last 11 games en route to a final blowout at the hands of the Bulls.
Even during that mad dash to Pretoria, the Chiefs' biggest winning streak was six.
To put the Chiefs' run in historical context, 2009 was the only year they won more than seven games total, let alone in a row.
As the Chiefs' struggles ballooned during the brutal 2010 and 2011 seasons, the crowds thinned to the point where individuals could hear their laments echoing around the stands.
While the Chiefs' wish for a crowd of 15,000 at a 25,000-seat stadium may sound conservative, it would, in the words of marketers, indicate the franchise's prospects were "trending up".
"Just looking at the Hurricanes game, sales are certainly well ahead of where they were for the Blues or the Highlanders games," said Chiefs boss Gary Dawson.
"The vast majority of our sales are in the last three or four days before the games. People generally wait to see what the weather forecast is but generally speaking there's a lot more interest in that Hurricanes game [than previous years]."
After the Hurricanes, the Chiefs host the Lions at Ecolight Stadium in Pukekohe. They then travel to Brisbane to face the Reds before a week off.