Highlanders 24
Cheetahs 21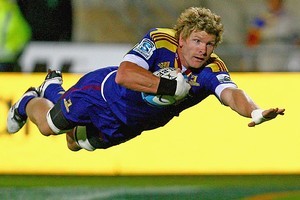 Adam Thomson's claims for World Cup selection went up another notch last night as the Highlanders continued to expand their winning repertoire.
Victory was their fifth this year in just seven matches and the triumph pushed them into equal second place with the Blues behind the Crusaders in the New Zealand pool. It further promoted the claims of their fringe All Blacks.
Men like Thomson and fullback Ben Smith, tried and discarded a few years ago, who was a threat all game carrying the ball out wide or being used as a decoy. Five-eighths Colin Slade was also prominent in just his second game back after a broken jaw then a leg injury last round.
But it was blindside flanker Thomson who offered an irrepressible workaholic performance as the Highlanders changed their approach to test the width of Carisbrook rather than just the middle channels of the park.
They knew the Cheetahs pressed in hard from the outside and tried to break down that formula. Thomson backed up, nailed many tackles, annoyed the Cheetahs in the rucks and still had the gas to outflank their defenders.
Victory did not come without some anxiety though. The Highlanders controlled most of the second half and the scoreboard until a late converted Cheetahs try, meant they had to survive an anxious final five minutes. Not as fraught as the punter who placed a million dollars at $1.03 midmatch on the Highlanders to win.
The Highlanders were dominant playing into the wind in the first half, but they were only three points in front when they headed into the dressing room for oranges.
They had scored two strong tries, moving the ball across the width of the park to outflank the visitors for the first to tireless Thomson and then using a simple cut move to send Kendrick Lynn across the line.
The hosts controlled the possession statistics and spent a fair chunk of the opening half in the Cheetahs territory.
The Highlanders made a couple of crucial mistakes, costing two converted tries. They messed up towards the end of the first quarter and WP Nel bludgeoned over before Colin Slade lost the ball in a tackle and Robert Ebersohn scooted away for his twin brother Sias to convert.