The food porn on telly is wearing thin on an increasingly impatient Don Kavanagh.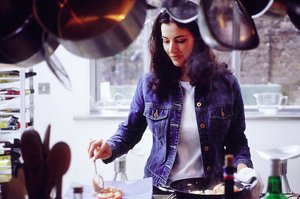 I was watching MasterChef the other night and had a little insight.
No, it wasn't the one about how the show is the world's most drawn-out infomercial for Countdown, it was that no one on there ever mentions drink when they talk about food.
I know that not everyone drinks. And not everyone drinks with their meals, but I have always thought of alcohol as a condiment to make food taste better, in the same way that pepper, salt and an unhealthy sprinkling of parmesan make everything taste better.
It's not just MasterChef, of course. There is so much food porn on telly that I occasionally blush when I watch television, and not just because Nigella Lawson is oozing her way across the the screen, the saucy little minx.
We have master chefs, celebrity chefs, naked chefs and all the other chefs, but not a word on telly about the people who make our drinks.
Naturally, the health and prohibition Nazis would kick up a tremendous stink because we're not supposed to drink. Instead, we're supposed to get by on water as an accompaniment to our truffle oil-drizzled, caperberry-tofu tapas. To hell with that.
We should be celebrating the people who make the wonderful beers and wines that are available to us. In Auckland's Galbraith's the other day, I tried the new, co-operatively brewed beer, Beastwars. A collaboration by Galbraith's and Hallertau brewer Steve Plowman, it's a masterpiece of big, brash brewing.
Packed with hops, but still with plenty of rich malt flavour, it's a monster, weighing in at north of 6 per cent alcohol, but it is a delightful drink. And it's a tribute to Galbraith's idea of bringing in brewers to make beer and seeing what it's like in the cask.
Similarly, winemakers are working wonders with perfectly innocent grapes and they also need to be celebrated. Distillers such as Stolen Rum and Murderers' Bay are worthy of telly time, too.
Instead of deifying scores of chefs, whose main claim to fame is either a plausible manner or a mate who works in telly, perhaps we could have a new programme. It could be about those tireless men and women who work their fingers to the bone to make sure we've all got a decent drink to help us while away the endless hours while MasterChef continues its ungainly stomp across our screens.