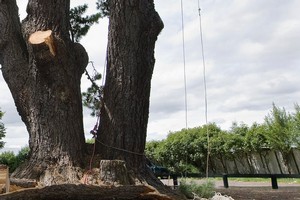 Researchers at the University of Washington have expanded upon the MIT discovery that trees can generate up to 200 millivolts by inventing an electrical device that runs on tree power. Tapping into the tree's voltage and retaining it in a boost converter can produce 1.1 volts. Unfortunately, it seems trees won't be charging-posts for mobile phones any time soon.
Kosta Grammatis would like everyone in the world to have free internet access. To achieve this, Grammatis hopes to purchase communications satellite Terrestar-1, then develop and distribute a low-cost modem. The success of this project depends on whether or not his charity ahumanright.org can raise sufficient funds to purchase the satellite.
Ming Tang has designed a cheap and user-friendly solution to the mass need for temporary accommodation after natural disasters. His origami-like, folded bamboo houses make use of an abundant resource and can transform into lightweight but stable shelters.