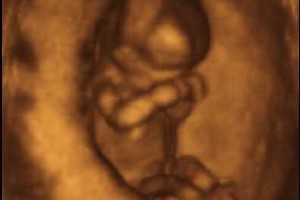 Riddle me this: When is a 20-year-old not a 20-year-old? A recent birth has set the record for the longest time elapsed between an embryo being frozen until it is successfully used in a live birth. This newborn boy has the rare privilege of genuinely knocking two decades off his actual conception age.
This new city design conjures up images of the disenchanted computer Holly from Red Dwarf. It aims to create an "Urban Metabolism" with a central computer "brain" that will regulate the use of water, energy and other processes to create an super-efficient Portuguese city.
Cyclists around the world can bite their thumbs at car-users with this short-listed Designboom competition entry by Ilian Milinov. Usurping a car park, this car-shaped bike rack could potentially squeeze in eight bikes where ordinarily one car alone would fit.
The aptly-named "Umbrella" is a clean technology design that facilitates the recycling of waste-water into clear, nourishing water with the benefit of cultivating plant-life in urban areas. It might also make you feel like a tiny Alice in Wonderland surrounded by giant, ethereal mushrooms. Would you welcome these in the centre of your city?