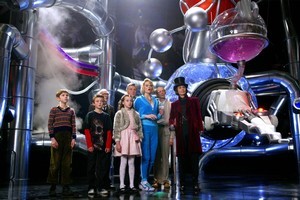 Life could soon be imitating art as food scientists make dreams come true for kids of the Roald Dahl generation. Willy Wonka's gum that turned Violet violet might be creeping closer to reality. Researchers have developed a technology that allows different flavours to be captured inside tiny capsules, and say it could be used to produce a three-course meal chewing gum. To start your next course, you would simply chew more vigorously when you're ready to move on.
At first glance this might look like a watery grave, but in fact it's an extraordinary new artificial reef off the coast of Mexico made entirely out of human statues. The underwater installation is the brainchild of British artist Jason de Caires Taylor, who used real people to create the 'casts' out of cement with a neutral pH, which si favourable to the cultivation of coral.
The project aims to ease pressure on nearby natural reefs which are struggling to deal with the half-a-million tourists who flock to the area every year.
Something else that is more than meets the eye is this frozen zoo. The DNA of a range of rare and endangered animals is stored at -173 degrees Celsius like seeds stashed away for the einter. The resulting stem cells could be more effective at preserving endangered animals than current approaches to animal conservation.
The Greater Mekong area has given rise to a whole new set of animals previously undiscovered because of the remoteness of the region. From Eleryi's Tube-Nosed Bat to the Cat Ba Leopard Gecko, these creatures will certainly appeal to those who like to celebrate that which is a little bit "different" in nature.