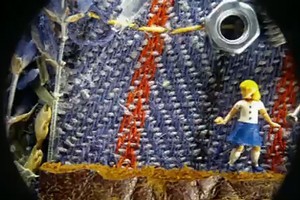 After grandiose spectacles such as Avatar burst onto the film scene, you might assume that bigger is better. But what about this tiny little gem by Aardman, the creators of Wallace and Gromit? A cellphone and a microscope were used to film this minuscule masterpiece.
While many species are dying out around the world, it's not all bad news. A fascinating upside in the story of the animal kingdom is that new creatures are being discovered in remote locations. Here are just eighteen of the most unique, starting with the Pinocchio frog.
What if your duck à l'orange was actually duck à la transgenique? Transgenic is the term being applied to the genetically modified foodstuffs that might one day find its way to your local supermarket.How would you feel if you found out you were eating gene-spliced fare?
Rather than depleting your cellphone's battery with incessant nattering, you might just be able to charge your phone by talking. Scientists in Korea have developed a material that could transform banter into battery.
If you've ever wished there was some way to combine your love for wine, the environment and vending machines into one wonderful service then these self-service wine tanks in France are the answer, just BYO vessel.