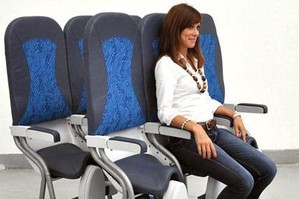 Cram is never the most encouraging verb to hear in a description of economy class seating, but it's there. A new design, described as being similar to a horse saddle, allows passengers to remain semi-standing on short flights. Airlines who might pick up the seat design for their budget flights will also be able to fit more sardines in per plane... passengers, that is.
Maybe water guns are more intimidating than they appear. More than just your standard super-soaker, this video shows how a new high-powered bomb-disposal water gun can rip through steel - taking the classic water-fight into a whole new league.
If diamonds are a girl's best friend, then you might want to hold onto your girl before she packs up and moves to Planet Diamond. Okay, so it's not a planet, but scientists have discovered a 10 billion, trillion, trillion carat diamond star somewhere in the constellation Centaurus.
The real bicentennial man could be arriving at a town near you - and no, I'm not referring to Robin Williams' comedy tour. Rather, robots may soon have the possibility of being encased in an e-skin, allowing them to attain the ever elusive sense of touch.
Finally, is it population or consumption that is causing the most harm to our planet's resources? This article looks at the different anthropological and societal trends plus their respective impact on Earth's sustainability.