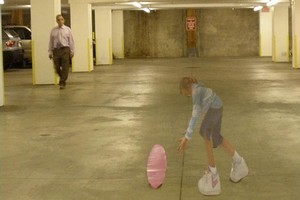 Canada will be launching a new attempt to force drivers to be more careful and attentive next week. But will it be more dangerous than it is preventative? What would you do if a hologram of a girl chasing after her ball ran out onto the road in front of your car?
In a similar vein Ed Hurn, owner of a rhinoceros reserve, also wants people to be forced to learn a lesson the hard way. One suggested cause that's pushing the endangered beast closer to extinction is the use of their horns in traditional Asian medicine and Hurn thinks injecting their horns with lethal poison is the best solution.
Changespotting's favourite house design at the moment still lives in the dreams of Daniel Andersson but gives new meaning to the phrase sleeping with the fishes. Andersson has designed a home he calls an Iceberg as it will float, half submerged, on the sea.
The history of the human brain's journey through evolution just got a bit slimier and a bit older with scientists discovering evidence of a human-like brain in a marine worm. We can now trace our family tree back 600 million years!
If you've had a rough day this last one might make you feel better - or a little jealous! A woman named Hilda Yao has donated more than one million dollars to the DonorsChoose site so that all of the teachers in California can have their "wish lists" granted.