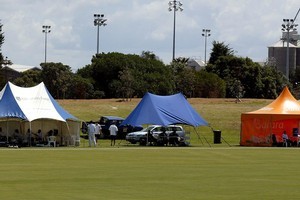 If the idea of camping conjures up images of sopping wet tents transformed into insect menageries, then perhaps urban camping is a more viable alternative. Berlin is embracing this unique approach to tourism, with Tentstation being just one example. Why not disguise your tent as a car and "park" yourself in an empty space?
You'd be forgiven for thinking that technology is becoming more than a little bit retro rather than futuristic once you see this human-powered vehicle. The car is essentially a 2010 upgrade of the Flintstones classic and can set a pretty good pace!
Any product prefaced by the word "disposable" is probably not doing the environment any favours. Fortunately, disposable razors could be made completely obsolete by this synthetic diamond-tipped razor blade which boasts a lifespan of years rather than weeks.
But not all things disposable are bad. For example, take this water-purifying tea bag that can create safe-drinking water in an instant.
Lastly, Rwanda has converted a disaster waiting to happen into a brilliant source of electricity by harnessing the power of the "exploding" Lake Kivu.