Rare American cars among the best of their kind go up for auction in Melbourne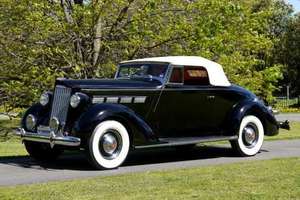 This 1937 Packard 120C Convertible Coupe was originally owned by the Governor of Hawaii.
The completely restored Marmon Model 78 (top) and Marmon Roosevelt Straight 8 (above) are the standout vehicles in the auction, both from the same seller.
Six magnificent American cars that would not look out of place on the set of The Great Gatsby are to face the gavel at Shannons Melbourne Summer Auction on Monday, December 2.
All have right-hand drive and all would make their new owners proud at any major national or international concours, according to Shannons national auction manager Christophe Boribon.
The standout vehicles of the six are a brace of rare 1929 Marmons and a striking 1937 Packard 120C Convertible Coupe.
Both Marmons are being offered for sale by the same Melbourne collector and have spent most of their time in climate-controlled Carcoons since their comprehensive restorations costing more than $220,000 apiece.
Named in honour of the American President, the stunning Marmon Roosevelt 'Straight 8' Collapsible Coupe was the first US car with a factory-installed radio. Another notable feature is its horn button that acts as the starter and headlight switch in addition to sounding a warning honk.
Billed as "Smart transportation for the thrifty", the Roosevelt helped to push Marmon's 1929 production to a record total of almost 30,000 vehicles, but the stock-market crash helped cripple the company, which survived only a further four years.
The vehicle being auctioned was discovered by the vendor in Bendigo, Victoria - where it had spent 20 years in storage - in the mid-1990s and was given a comprehensive two-year restoration that was completed in late 1997.
This concours-winning car was featured in Unique Cars in May 1998 and is regarded by Shannons as one of the finest examples of the Roosevelt model anywhere in the world, making it an ideal club car suitable for tours or show.
Shannons is quoting an auction guiding range of $93,000-$100,000.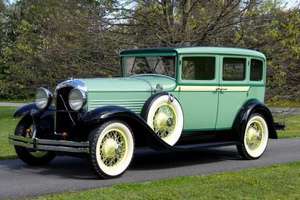 Not quite as striking, but just as beautifully presented and desirable from the same collector, is a 1929 Marmon Model 78 Straight 8 OHV Sedan that originally came from South Australia before being discovered in Victoria in 1997 and given a ground-up restoration.
The 1929 Series 78 is sought after by enthusiasts for the rarity of its overhead valve straight-eight engine, while the Model 68 had a side-valve engine.
It was the last Marmon to sell in any numbers in Australia but the survival rate has been poor and restored examples like this rarely come on the market, according to Shannons, who expect it to sell in the $84,000-$90,000 range.
Equally stunning and worthy of a Gatsby role is 1937 Packard 120C Convertible Coupe originally owned by the Governor of Hawaii, Wade Warren Thayer, who intercepted the car intended for Melbourne agent Kellow-Falkiner when the boat it was on from the factory made a stopover in Honolulu.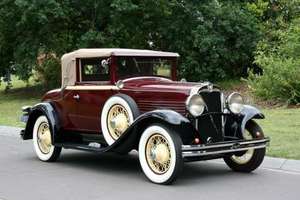 Thayer wanted a right-hand-drive model as he was deaf in his left ear and felt it safer to drive with his good ear on the traffic side.
The car was eventually shipped to Melbourne in the early 1970s as part of a deceased estate and was found in Ballarat in the 1980s and subsequently restored with care to preserve its originality and patina.
Its original coachwork is of "preservation quality" according to Shannons, who expect it to bring $81,000-$90,000.