Fondness for early Japanese cars is growing, writes Jacqui Madelin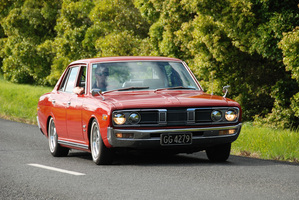 It's finally happened, Japanese cars are well and truly classics, and this 1972 Datsun 260C, known as the Cedric in Japan, with this model the third generation, certainly counts as one.
Owner Richard Opie knew someone in Invercargill who had bought the Datsun from the original owner, and the person didn't have it long before succumbing to Richard's offer.
Why the Datsun? "I've always been into old Japanese cars, they captured my imagination. This one's a big lazy cruiser, pseudo American, and they're still a relatively good buy-in."
His uncle sparked his fascination for Japanese cars early.
Richard likes the social aspect to owning an older car.
"You get together, work on them, and it's always an event when you drive them, and not because they're unpredictable," he says.
"I've never had one strand me yet, touch wood, though I guess there always is an element of, 'will I get there', especially given that with our group (oldschool.co.nz) most of our stuff is built on a budget."
There's not much left to do, he says, perhaps bar fitting the twin carbs he got off a 240Z as it was in good condition when he got it, bog standard with original paint, albeit with some touch-ups.
"All I've done body-wise is fix some rust and give it a damn good cut and polish."
He's also fitted Holden lowering springs up front and reset the leaves out back with a set of blocks to lower it a tad.
"I keep all the original bits so it can be returned to how the factory intended. The wheels are old Japanese items, copies of Enkei's Torque Thrust. I found them online and spent a lot of time stripping and polishing them."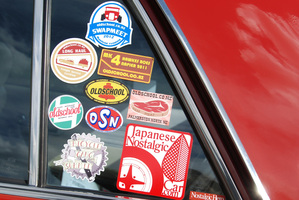 This car was assembled in Japan in 1972. "They were built in Thames from 1973 as a three-speed auto," he says.
However, he's fitted a five-speed 280ZX manual transmission.
"It used to suck gas. It returned 14l/100km on the way back from the South Island. It was revving its guts out - it's more like 11l/100km with the manual."
The engine's a 2.6-litre inline six that had done 90,000 original miles (144,840km) when he bought it, and has now travelled 167,400km.
"I rebuilt the top end, reconditioned the head, and rebuilt the carb. It was burning a lot of oil and getting quite tired."
Top speed? "Going fast doesn't interest me at all, eh. This is a cruiser."
He does like the sound of an inline six but, as he puts it: "I'm too old for loud cars now, I'm 31 and I've been there, done that."
Richard drives the Datsun most weekends, using a Hilux for his job as an electrical sales rep.
"I do motorsport photography and I use the Datsun for that as well, although I don't think I'd drive it daily for fear of someone running into it."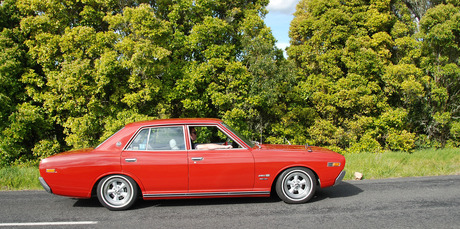 The Datsun's certainly comfy enough to commute in, though.
"The interior is all as it came, even the shag pile carpet."
He likes the attention to detail, though the designers got carried away with a few bits.
The seat embossing uses a different pattern to the doors, and the seatback curlicues are different again.
The original radio still works, so does the auto scan. There's a map light: this era of Japanese car was full of needless little details, like all the embossing in the trim, the black box on the rear parcel shelf to confirm both brake lights are working, the inspection light under the bonnet, common to Datsuns of this era and intermittent wipers. There's even a demister timer to switch the demister off after 15 minutes - but no demister.
This is a bit smaller than Falcons or Commodores of the period but has better features and finish - leagues above those Australian equivalents I've encountered.
The Datsun's power steering is more accurate and predictable than expected; a pleasant-sounding gutsy engine; comfy, with good disc front and drum rear brakes; he's refurbished them.
It's really an everyday classic and not expensive.
"I paid $2000 for it. I wouldn't part with it for less than seven after what I've done to it, but you'd find a tidy one new for five or six grand.
They're relatively collectible, reasonably rare and a good alternative to the big Aussie sedans they competed against. In 1972, a V8 Falcon cost the same."