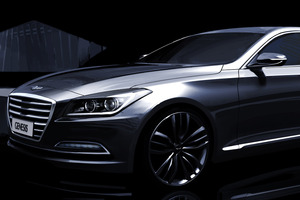 Hyundai has revealed the all-new right-hand-drive Genesis to Korean media before its international debut.
The luxury sedan will be coming to New Zealand next year.
Held at Hyundai Motor Group's R&D Centre just out of Seoul, the the pre-launch media event was to promote its domestic launch scheduled later this year.
"Launched in 2008, Hyundai's first premium rear-wheel-drive sedan Genesis surprised the industry with its outstanding product competitiveness," said Moon Sik Kwon, head of Hyundai Motor Group's R&D Centre.
"The evolved all-new Genesis is the product of Hyundai's best resources and capabilities and we strongly believe it will be a game-changer in the market."
With a total investment of $575 million, the project began with the aim of developing a world-class premium rear-wheel-drive sedan, and it took four years to develop the current model.
The high-spec Genesis is a big seller in the United States and is positioned to compete with BMW's 5 Series, the Mercedes-Benz E-Class and Lexus GS.
Hyundai NZ general manager Andy Sinclair confirmed to Driven during a press trip to Seoul in August that the Genesis would be heading the company's line-up of vehicles though he was still unsure of details.
"There is no pricing whatsoever and no specification or drivetrain details as yet," said Sinclair, although he did admit to favouring the V8 engine over the V6.
The all-new Genesis sedan significantly improved its safety in crash tests due to improved body structure and rigidity.
Its torsional and bending stiffness have been increased by applying more ultra-high-strength steel, hot-stamping and double-section structure on the front, partitioned engine room design as well as improved rear and centre floor structures.
Passenger safety has been improved by the application of advanced seatbelt functions such as Emergency Fastening Device system, which tightly fastens passengers in crashes, and Pre-Safe seatbelt, which warns of danger in advance by tightening the seatbelt.
With improved suspension and application of advanced technology, the all-new Genesis sedan offers top-class driving and ride and handling performances. Greatly improved lateral stiffness of the front and rear suspensions and excellent weight balance contribute to the making of a stable chassis. Meanwhile, electronic control suspension such as advanced traction cornering control enables greater stability in corners.
Furthermore, rack-mounted motor driven electric power steering was first applied to the model with a variable gear ratio, which provides high-speed stability and direct response at low speeds.
Hyundai's all-wheel-drive system will also be available for the first time on the Genesis.
The advanced stem electronically controls torque split between the front and rear axles depending on conditions, offering greater stability on slippery roads and in corners. It also allows drivers to select driving modes for a tailored driving experience.