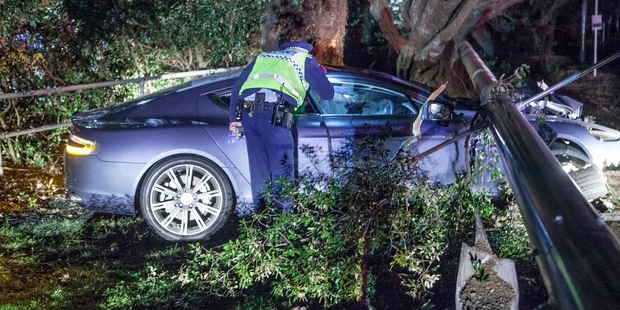 The driver of a luxury car that crashed on Auckland's Tamaki Drive will face charges over the accident.
The man, understood to be a recent arrival to New Zealand, has been charged with dangerous driving and excess breath alcohol.
He was driving a late-model Aston Martin Rapide at about 3am on Sunday when it hit a lamp post opposite the Royal Akarana Yacht Club.
The car is worth $330,000 and is one of only about 25 in the country.
The dark blue vehicle was seriously damaged with both wheels caved in under the crumpled bonnet and the windscreen shattered.
The man was seen being treated by ambulance staff before he was taken away by police.
Aston Martin cars are imported and distributed in New Zealand by the Giltrap Group and are based at Independent Prestige in Auckland. However, Independent Prestige general manager Greg Brinck told the Herald that he couldn't say if the car had been one of his company's because of privacy reasons.
The arrested man is expected to appear in the Auckland District Court later this week.