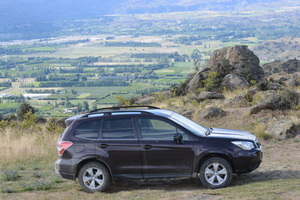 All-wheel-drive system enhances Forester's fun-to-use versatility Subaru Forester
Subaru's Forester has been named Motor Trend magazine's SUV of the Year. The United States specification Forester won the award in 2009 and the Outback took the title in 2010.
Subaru has become the only brand to have won the award three times.
Editor-in-chief Ed Loh said: "The 2014 Subaru Forester beat a highly competitive field of SUVs because it best met our award's six key criteria.
"Smart design, thoughtful engineering, and a compelling performance on road and off were the keys to the Forester's win.
"Our editors were particularly impressed by the powerful yet efficient turbocharged engines, the intelligent and sporty Subaru Lineartronic transmission, and the excellent visibility and interior package found within the Forester. Practical, affordable, efficient and fun to drive - Forester truly ticked every box."
Motor Trend's SUV of the Year is open only to all-new or substantially upgraded vehicles that have gone on sale in the 12 months from November the previous year.
The US-spec Forester, which went on sale in March this year, was developed with the goal to give maximum value as a true SUV. Apart from the location of the steering wheel, the New Zealand Forester is similar.
Featuring Subaru's renowned symmetrical all-wheel-drive system at its core, the fourth-generation Forester boasts a higher level of drivability as well as enhanced safety and environmental performance, combined with much-improved capabilities as an SUV, offering fun-to-use versatility and fun-to-travel driving performance.