New range more than meets the eye, says Ben Selby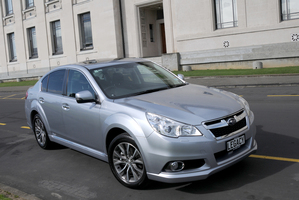 It is funny when you have a haircut and no one notices. It can be like that with cars too.
At first glance of the 2014 Subaru range I thought, ''hang on, what's changed?'' But Subaru has offered up a little more than a simple short back and sides. The revised Legacy sports new look 18-inch alloys along with the standard 17 inch, a revised apron and chiselled side skirts.
One problem with ancestors in the Legacy family tree was the list price was firmly in the clouds. Thankfully, it has come back down to earth, making it a more affordable option within its bracket.
Starting the range at $44,990 is the new 2.5i Sport, 127kW/229Nm boxer four-cylinder, with Subaru's six-speed Lineatronic Transmission (SLT) and its proven All-Wheel Drive system as standard. A 2.5X, 127kW/229Nm, has been added to complement the 3.6X flat six, which has 191kW/350Nm.
The range-topping GT is back too. Add a turbocharger and power is up to 195kW/350Nm, with the zero to 100km/h sprint dealt with in a claimed 6.2 seconds.
Fitted with a five-speed box and the $59,990 entry fee may deter some - but it's a small price for this kind of oomph.
X range cars and the GT feature Subaru's clever Eyesight camera-based safety technology. This warns if you wander out of your lane, will detect other approaching objects.
The 2.5i Premium features extras such as DVD player with eight-inch touchscreen infotainment system, electric sunroof, adaptive cruise control, leather trim and 10 thumping speakers raise the prices to $49,990 for the 2.5i respectively.
The Legacy 2.5i X sedan feels quite planted in the bends, even on maximum attack. The SLT box provides smooth shifts throughout the rev range.
Steering is weighted well and while turn is considerably sharp, the ride, despite the raise in ride height, leaves a great deal to be desired. The all-wheel drive system is unchanged and still delivers the goods.
The Legacy has been part of the New Zealand landscape for many a moon and the next generation car does show some forward motion - although time will tell if the combination of willing power units and better value will bring the old timer into a new light.