Company hopes link to famous racing circuit will give it 'emotional appeal'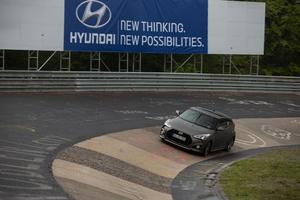 Hyundai has officially opened its European test centre at the Nurburgring in Germany as the company moves towards expanding its model line-up and returning to the WRC next season.
An opening ceremony marked the completion of the $10.1 million purpose-built vehicle testing facility, boosting the brand's R&D operations in Europe.
The centre provides Hyundai with a full-time presence at the Nurburgring circuit, allowing it to further evaluate and develop the durability and driving dynamics of its vehicles more effectively.
Construction of the striking 3622sq m Hyundai European Test Centre began in June 2012 and was completed in less than 15 months. The glass and steel building houses workshops, office spaces and hospitality areas over four floors.
The facility is an extension of Hyundai's European R&D centre in Russelsheim, Germany, where the brand's European design and engineering teams have been based since 2003.
The team are testing the i20 for the 2014 WRC competition, with the first rally at Monte Carlo.
Hyundai's accelerated durability tests are conducted from the European test centre. Each vehicle taking part in testing laps the Nurburgring Nordschleife circuit 480 times, in dry and wet conditions, simulating 160,000km of rigorous driving in less than six weeks.
Throughout each lap, data parameters are monitored, assessing steering input and vehicle course, suspension movement and ride and handling characteristics.
The results are given to the vehicle development team at the circuit, enabling Hyundai's engineers to quickly make changes and tailor dynamic characteristics.
"The Nurburgring is a challenge for any vehicle, so it is the perfect location for our new facility," said Allan Rushforth, senior vice-president and chief operating officer of Hyundai Motor Europe.
"The new European test centre is a natural extension of our technical centre in Russelsheim, and enables Hyundai to more quickly and more accurately test the reliability and drivability of our vehicles.
"The emotional appeal of being 'tested at Nurburgring' will also help to further build the brand's reputation across Europe."
The Nurburgring is widely recognised as one of the most challenging tracks in the world, consisting of 170 corners spread across 20.8km.
With a difference in height of almost 300 metres between the lowest and the highest points, it features uphill and downhill gradients of 11 and 17 per cent.