One unfortunate Lamborghini-driving millionaire finds that money can't buy him luck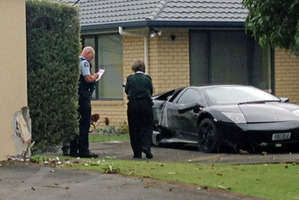 A Lamborghini owner damaged his car - and his ego - when he crashed his rare $200,000 sportscar into a house in the upmarket Coromandel township of Pauanui.
The accident happened shortly after 10.30 yesterday morning when the car pulled out of the SuperValue carpark and careered across the road into an unoccupied holiday home in Jubilee Drive.
The Lamborghini Murcielago, one of only 4,000 in the world and sporting the number plate YBEOLD, ploughed through the front garden, clipped the garage taking a chunk out of the corner, before ending up in a neighbouring property.
An eyewitness, who did not want to be named, said the man appeared to put his foot down and lose control of the car as he tried to leave the car park. The car shot forward at a rate of knots and sped out of the shop car park.
"It was a beautiful car," he said.
"Then you just heard 'errrr' and bang."
He said the middle-aged driver, believed to be a local, got out of the car looking "pretty sheepish".
He was not injured but appeared to be sporting a seriously bruised ego.
Northern Communications Inspector Steve Kose said police and fire service were called to the Jubilee Drive address where a Lamborghini had clipped a house.
He said police were investigating the cause of the crash and were yet to decide whether any charges would be laid.