Damien O'Carroll takes on AMG's latest animal - the 800Nm E 63S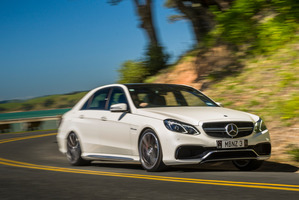 You really do have to wonder about the mental stability of the blokes at AMG. Who would look at a Mercedes-Benz E-Class - a car that does double duty as a taxi and an old man's car in its home country - and think "Hmmm ... it's not bad, but it really needs to accelerate to 100km/h faster than a Porsche 911 and make a sound like the universe is collapsing in on itself while it does it ...".
Only someone seriously unhinged would think that, let alone make it a production reality.
But that is really the only reason I can see behind the existence of the E 63S AMG, because literally nothing else makes sense. Other than "do something faster than BMW", which, admittedly, could also be a factor.
But putting aside trivial things like"sense" and "reason" we should all really be grateful that such a thing as the E 63S AMG exists and not just because if everyone was sane, then the world would be a far less interesting place.
No, we should be grateful the E 63S AMG exists, because it proves that touchy-feely political correctness hasn't yet consumed the world. Literally nobody NEEDS a 430kW/800Nm biturbo V8 super sedan, but, by God, they NEED to exist just to deliver a belligerently roaring, tyre smoking middle finger to the sort of people who drive Priuses and don't keep score at children's games so no one loses.
The "E" part of the E 63S AMG's name is fairly self-explanatory, meaning the car is an E-Class, and the fact that it only has two numbers after it, as opposed to the customary three, lets you know it is a product of the wonderfully unbalanced minds at Mercedes' performance arm.
This is backed up by the presence of "AMG" which is, in fact, the name of said performance arm, but what of that errant "S" jammed in there? That is new.
Hopefully it stands for something better than "Special", but its appearance on the rump of the E 63 signifies that it is the even more powerful, top of the tree model and the only model likely to be coming to local shores.
You see, Mercedes-Benz in New Zealand (and Australia) decided that they may as well just go big with the newest AMG and simply didn't bother with the lesser standard E 63.
What with its weedy 410kW and 720Nm and all, it is barely worth bothering about.
But it is not just the extra grunt that elevates the S model above its "lesser" sibling - there is also a whole bunch of extra kit as well. Not that the E 63 was in any way left wanting for kit ...
Anyway, on the outside the S gets an extra "S" badge on the boot lid, subtle "V8 BITURBO" badges on the wings (just, y'know, because ... ), an AMG body kit that includes a spoiler lip on boot lid, flared wheel arches, a special front apron with front splitter in silver chrome, a rear apron with diffuser fins and silver-chrome trim strip and side sill panels with inlays in silver chrome, an AMG grille with silver chrome finish double louvres, 10-spoke 19-inch alloy wheels, an AMG sports exhaust system with two chromed dual tailpipes, red brake callipers and an LED Intelligent Light System.
While this sounds quite a lot of bling, the net result is surprisingly subtle, with the E 63S having a subdued, muscular appearance, especially when compared to something like a BMW M5.
On the inside the E 63S is equally subtle, but massively well-specced. Apart from the stubby AMG gear shifter placed on the centre console, as opposed to Mercedes' now-traditional column stalk position, the interior of the E 63S could easily be mistaken, at first glance, for a top-spec "ordinary" E-Class, complete with all the huge amount of spec that comes with that.
Look closer though, and it quickly becomes apparent this isn't an ordinary E-Class. Special AMG front door sill panels with white LED illumination tip you off when you open the door, while it also gets an AMG instrument cluster which includes AMG's "Racetimer" and start-up display, an AMG steering wheel in black nappa leather and Alcantara, silver AMG seat belts, brushed stainless steel sports pedals with rubber studs, AMG sports seats with enhanced lateral support, contrasting topstitching and the AMG emblem embossed in the front head restraints, Nappa leather upholstery with dashboard and door beltlines in Artico "man-made leather", an electric rear window roller blind and high-gloss black ash wood trim.
Moving to the bits that make the E 63S particularly special, the highlight of which is the mighty 5.5-litre V8 biturbo engine that spits out the aforementioned 430kW of power and 800Nm of torque.
To complement all this power, the E 63S also scores an MCT seven-speed sports transmission with four transmission modes and "Race Start" launch control function (really!), as well as a 3-stage electronic stability programme, an AMG limited-slip rear differential, AMG Ride Control sports suspension with an adjustable damping system and self-levelling suspension on the rear axle and an AMG high-performance brake system with composite brake discs at front.
The E 63S clocks in at $215,000, and it has to be said that, while that is a lot of money, you really do get a staggering amount of car for it.
The most obvious visual clue in the interior that the E 63S is a wee bit special is the appearance of a stubby gear lever on the centre console, shifted from the now-traditional steering column position of the lesser Mercedes range.
The rest of it, however, is pure E-Class. So if you were particularly dull witted, failed to notice any of the exterior subtleties and missed the gear lever altogether, then sinking the throttle pedal to the floor for the first time would scare you clean out of what few wits you possessed in the first place ...
An unholy bellow fills the sumptuous cabin as the big Benz settles ever-so-slightly back on its haunches and quite literally erupts towards the horizon. On wet roads, the rear end would give a small wriggle, just to say "easy there cowboy, I have enough power here to make a woman out of you if you use it wrong" before the very excellent traction control gently steps in and expertly siphons all of that purely mental power into a relentless charge towards a distant point that will very shortly go hurtling backwards past you.
Later in the day as the roads dried out, the slight rear end wriggle was replaced by a more purposeful squat and some seriously belligerent acceleration as the big Benz rockets to 100km/h in a Porsche-battering 4.1 seconds. And it is not simply accelerating from a low speed that gets this result, overtaking slower traffic (ie: everything) at the open road limit is equally electrifying and massive fun.
But the E 63S isn't simply a straight-line special - it possesses some pretty impressive conferring skills as well. Regardless of whether you have the adjustable suspension in "comfortable" or "smash your head in" mode, the E 63S tips eagerly into a corner with the sharpness of a far smaller car.
The amount of body roll depends on the suspension setting, but it is simply never anything more than gently progressive and predictable, much like the rear end. Although, that depends on your chosen stability control setting and willpower on the throttle ...
Perhaps the most remarkable thing about the E63 is its ability to deliver utterly savage performance when required while remaining as docile as a happy puppy sleeping in the sun on your best shirt when you are not thrashing it.
While a car like the BMW M6 can be set anywhere between "happy, sleepy puppy"and "burning, pillaging Viking", the big AMG simply does both at the same time.
Sure, it has all the individual settings and the exciting AMG button that simply screams "Push me! You know you want to! I promise I won't hurt you too bad ...", but the button that really changes the E63's character is sitting on the floor next to the brake pedal - push this and even if you have all the settings set to "girl" it will still erupt with all the shouty fury of every Samuel L. Jackson movie combined.
It will still propel you towards the horizon like it wants throw you off the edge of the world and then laugh at you as you fall.
After driving the E 63S AMG you understand. You understand that, indeed, the world is a better place because not everybody is completely sane and that enough of those people work at AMG to make a car like this happen.