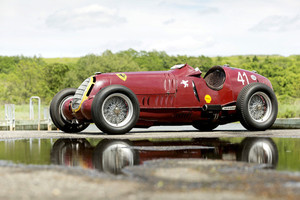 One of the great pre-war Grand Prix race cars, an ex-Tazio Nuvolari 1935 Alfa Romeo Tipo C 8C-35, sold for £5,937,500 ($11.54 million NZ) at Bonhams' Goodwood Revival auction on Saturday.
It was a new world record for an Alfa Romeo sold at auction. The previous highest price was £4,245,118 ($8.2 million NZ) for a 1933 Alfa Romeo straight-eight cylinder Monza 2300 sold in California in 2010.
The 330bhp (246kW) supercharged Alfa Romeo Grand Prix car, chassis number 50013 and Scuderia Ferrari number 65, was campaigned by the diminutive Tazio Nuvolari for Alfa's factory team run by Enzo Ferrari. Nuvolari, then already 43 years old, was renowned for his utterly fearless and totally-committed approach to racing. He is often credited with developing the power-drift driving style, and as star of the Scuderia Ferrari Alfa Romeo team he led Italian racing's rearguard action against the state-backed German "Silver Arrows" of Mercedes-Benz and Auto Union.
The auction record follows the £19.6 million ($38.1 million NZ) achieved by a Formula One Mercedes at the Bonhams Goodwood Festival of Speed sale in July.
This car was driven to victory by Juan Manual Fangio in 1954/55, its price was the highest achieved for any car sold at auction.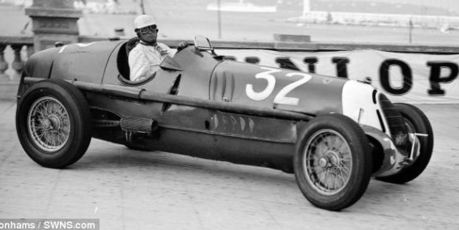 During the Goodwood Revival sale on Saturday September 14, another world record was made, this time for a standard road-going E-type Jaguar, a 1961 Series 1 "flat floor" roadster going for £225,500 ($438,522 NZ). It had been owned by one family since 1963.
Other significant results include an ex-works1931 Invicta 4.5-litre S-Type "low Chassis", which sold for £953,500 (1.85 million NZ). A 1972 Lamborghini Miura SV, delivered new to singer Rod Stewart and one of just seven right-hand-drive examples, went for £919,900 ($1.78 million NZ).