Maybe we can't buy - but we can look.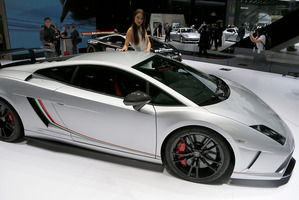 The best thing about an auto show is the chance to gawk at and sit in cars most people can't afford. So here's a look at eight of the most striking and expensive new vehicles on display at the Frankfurt auto Show.
The show opens to the public tomorrow and runs through September 22.

FERRARI 458 SPECIALE: Should you need to accelerate to 100km/h in 3 seconds flat and
go twice as fast again in another 6.1 seconds, this is your car. The Speciale, flaunting Ferrari's most powerful V-8 engine ever, has spoilers that swing out to increase downdraft and keep it pinned to the road above 150km/h. Topspeed is above 325km/h. Ferrari is also proud of how quickly it can stop: in 122 meters, from 200km/h. With its
dipped hood, the 458 Speciale is slighter and less muscular-looking than the typical Ferrari. At Frankfurt, it was shown in Ferrari red, with a blue-and-white racing stripe that
traces the hood, roof and trunk of the car. The price in Italy starts at 238,000 euros ($515,000).
ASTON MARTIN CC100: The first thing you'll need to drive this racer is a helmet - and a sunny day. Modeled on the 1950s DBR1 race car, the CC100 has no windscreen, no roof
and cutouts in the sides. The 100 stands for Aston Martin's 100th anniversary and is embossed on the car's long, elegant hood, just like a racing number. It looks ready for the track, but it's entirely street-legal. The V-12 engine can go from rest to 100km/h in a
little over four seconds. Top speed: 189km/h.

BUGATTI VEYRON 16.4 GRAND SPORT: Bugatti declared this the world's fastest roadster after it reached a speed of 408.84km/h on a German test track. The 16-cylinder engine, visible in the back of the car, and can accelerate from 0 to 100km/h in 2.6 seconds. At
Frankfurt, the car was shown with two different exteriors: one aluminum-clad - for .96m ($3.20 million) - and one black carbon fiber - for $3.7m.

LAMBORGHINI GALLARDO LP 570-4 SQUADRA CORSE: A street version of the company's Super Trofeo racing machine, the low-slung Squadra Corse shows its pedigree with an aerodynamic rear spoiler to keep it on the road at high speed. It has the same V-10 engine as the race car. Step on the gas and it spits out an intimidating roar. 0-100km/h in 3.4 seconds, top speed 320km/h. On sale for anyone with 191,100 ($312,000) to spare, not including tax.

ROLLS-ROYCE CELESTIAL PHANTOM: This special edition is meant to commemorate the
10th anniversary of production at the company's Goodwood plant in England. So the
ceiling lights up with the exact pattern of the night sky on January 1, 2003, astronomically verified. The interior is made with different fine leathers, a wool carpet, and door compartments smoothly lined with cashmere. A beverage cooler keeps the champagne cold in back, and the clock in the partition between you and your chauffeur has four diamonds in it.

SMART FOURJOY CONCEPT: No roof, no doors, no back window - but a place to hang a
skateboard on top. This whimsical, not-for-sale design study from Daimler AG's Smart is intended to introduce design elements for a future forfour four-seat model. The company
says the forfour expected next year will in fact have doors and a more conventional look,
though the concept car's front and rear end likely reflect the eventual production model.

PORSCHE 918 SPYDER: Porsche calls it the supercar of the future: a plug-in hybrid with a
monstrous 887 horsepower from a V-8 internal combustion racing engine and two
electric motors. Drive carefully and it can get mileage of up to 3-litres per 100 kilometers. Or, go zero to 100km/h in a blazing 2.8 seconds. The price? $1.2m.

BENTLEY GT V8 S: This smoothly contoured coupe with a big grille was presented in dazzling white at Frankfurt. Its 4.0 liter, twin-turbocharged V8 for an exhilarating but
still smooth luxury ride. The car has ''a little bit more power, a little bit more performance'' for fans of the luxury brand, says Kevin Rose, Bentley's marketing director. There's a convertible version. You'll be paying US$194,600 for the coupe, US$214,000 for
the convertible.
-AP