Entry-level hybrids make 'green' motoring more accessible than ever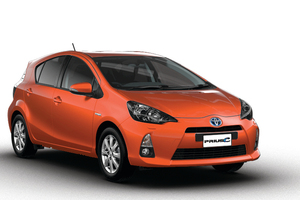 If hybrids have still not taken over the automotive landscape in New Zealand, it cannot be for lack of choice. When we last looked at the petrol-electric market a year ago there were 11 model lines on sale. This year there are 19.
Honda, Toyota and Lexus have added to their hybrid ranges, while some new brands have also joined the fray: Mercedes-Benz and Peugeot are now in the mix.
Those European brands also bring a fundamental change to the hybrid market: it's no longer simply petrol-electric, because both Peugeot and Mercedes-Benz's offerings employ diesel power.
As ever, we can marvel at the technology but lament the volume: at just 1 per cent of the passenger car market, hybrids are still a niche concern. But it's baby steps: that market share is up on last year, the hybrid segment is diversifying and new entry-level models from some brands mean these eco-conscious cars are more accessible than ever. Let's take a look at what's available.
TOYOTA
We start with Toyota for two good reasons. First, it's one of the two Japanese companies that really perfected and popularised hybrid technology for the mainstream, Honda being the other.
Second, there's a bit of undermining and undercutting going on between those two companies for the honour of offering New Zealand's cheapest new hybrid, and right now it's Toyota's Prius C, which starts at $31,280. Prius C is also the country's best-selling hybrid, clocking up more than 300 sales last year. Deservedly so: it takes proven technology from the larger Prius and repackages it for the supermini market.
The C is now just one of three tiers in Toyota's Prius range. Above the C there's the familiar Prius, while the flagship model is the Prius V seven-seater. The V also pushes Toyota's hybrid technology forward by using more advanced and compact lithium-ion batteries, which helps liberate the room for those extra passengers.
Let's not forget the car that gets us to the airport: the Aussie-built Camry hybrid, which is available in fleet-focused entry-level specification and as a fully loaded i-Tech model.
HONDA
For one glorious moment, Honda had the cheapest hybrid on sale when it launched the Jazz IMA at under $30k earlier this year. But it didn't last long, with the price rising to $31,500 - now a smidgen above Toyota's Prius C.
Jazz uses a similar IMA powertrain to that in the Insight, with a 1.3-litre petrol engine as a base. Honda says it is 30 per cent more thrifty than the conventional 1.5-litre Jazz. The Jazz IMA is not as aerodynamic as the Insight but it is lighter and the Jazz's selling proposition is not affected: outstanding cargo space and packaging.
Honda is also continuing with its novel, retro-styled CR-Z hybrid sports car. One of its many claims to fame is that it is the only hybrid on sale in New Zealand that's available with a manual gearbox.
Finally, the Civic hybrid: it remains Honda's most outwardly conservative petrol-electric model, but in some ways it's the most advanced: the latest model employs lithium-ion batteries.
HOLDEN
Some will argue that the Holden Volt is an electric car with extended range rather than a hybrid. As you wish. But we include it here because it has two powertrains - a lithium-ion battery pack providing electric drive and a 1.4-litre petrol generator, which allows it to combine green motoring with real-world range (up to 600km) by combining the two powerplants.
Volt is an extremely expensive car but also something of a standard-bearer for green motoring. It also shows that eco-conscious driving doesn't have to be dull, with svelte styling and an engaging driving experience.
The fact that you can plug it into a home outlet and travel up to 90km on battery power (enough for 95 per cent of Kiwi commuting, says Holden), yet still use the petrol generator for long-distance driving, means the Volt offers the best of both worlds.
LEXUS
Toyota's luxury brand pioneered the concept of a "performance hybrid" and it continues to embrace that ethos. The Lexus hybrid ranks have been bolstered this year with the all-new IS300h (which uses a 2.5-litre petrol V6 and electric motor), so the brand can now boast that it offers a hybrid in every one of its model ranges.
There's the CT200h (think of it as a very posh Prius), the IS, the GS450h and the super-luxurious - and silent - LS600h. The RX450h crossover is now the oldest of the line-up but in some ways it's still the most technologically interesting: the petrol V6 drives the front wheels and the electric motor drives the rear.
MERCEDES-BENZ
The Mercedes-Benz E300 BlueTec Hybrid is essentially the existing E250 CDI with an electric motor added. It's notable for being a diesel and also for the deceptively simple hybrid set-up. The battery pack uses lithium-ion technology but it is recharged solely by deceleration and braking - unlike most other hybrid systems, the engine is not used to top it up. For that reason the battery is very small.
On paper, the BlueTec is a glamour hybrid for early adopters: it's only 0.6 litre for 100km more economical than the standard E250 CDI, yet costs $23,000 more. However, it does add 20kW/150kW to the donor car, while also combining the low-emissions advantage of hybrid driving in the city with the long-range ability of that ultra-thrifty 2.1-litre diesel powerplant.
PEUGEOT
Mercedes-Benz might be posh, but it was Peugeot that got to market first with a diesel-electric car. Two of them, in fact: the 3008 HY4 and the flagship 508 RXH. Both employ a common hybrid set-up: a 2.0-litre turbo diesel engine drives the front wheels, while an electric motor runs at the back.
Drivers can choose from four different operating modes: auto, sport, 4WD (both models are capable of light off-roading) and zero-emissions, which runs the cars on battery alone for short distances. Both are flagship models for their respective ranges and neither are cheap.
However, buy the HY4 or 508 and you will get a helping hand in the form of 50,000km of road user charges paid up. Yes, while these new diesel hybrids may be two of the cleanest vehicles on the road, the Kiwi road-tax system demands that all diesel vehicles pay their share of RUC.
PORSCHE
Porsche's Cayenne S hybrid continues as a high-performance, high-priced alternative to the V8 S model. However, Porsche is about to launch its next-generation petrol-electric technology in the form of the Panamera E-Hybrid, which combines a petrol V6 engine with a plug-in battery that gives up to 36km of zero-emissions driving on a charge.
The Panamera E-Hybrid will be launched here early next year. The same hybrid technology will eventually migrate to Cayenne, but not until the next major model upgrade.
BMW
BMW's soft launch of the 5 Series ActiveHybrid has been a bit of a tease: it brought in a handful of examples of the petrol-electric model last year to test public reaction and perhaps also to get us used to the idea of electric BMWs and its forthcoming i-brand.
The ActiveHybrid 5 has a 3.0-litre straight-six petrol engine and electric motor, resulting in an impressive blend of performance and economy - although a conventional 535d is still slightly quicker and more economical overall. BMW New Zealand says it won't go too much further with the ActiveHybrid 5, but it is still actively on sale as you read this. There are still three examples on the books and at just $3000 more than a 535d, this car could be considered a bargain for the eco-conscious early adopter.

The Prius C is Toyota's 'baby' hybrid.
The IS300h F Sport is a hybrid luxury sports car that has joined the Lexus range.
Mercedes-Benz E-Class hybrid diesel (left) has a monitor in the dash (top) that shows whether the electric or diesel engine is in use.
The hybrid dial in Peugeot's 3008HY4, the first hybrid-diesel in NZ.