The Speedshow will be full of exotics and custom cars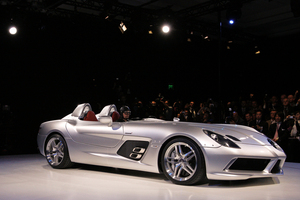 A Mercedes-Benz SLR McLaren Stirling Moss edition, an Enzo Ferrari, seven Lamborghinis spanning the Italian marque's 50 years, classic and new Aston Martins, a swag of Porsche 911s plus a whole new custom car show - this year's CRC Speedshow is set to fuel all manner of automotive passions.
The seventh edition of the CRC Speedshow takes place at Auckland's ASB Showgrounds this weekend and the new owner, Whakatane-based former custom motorcycle builder and professional jet-ski racer Ross Prevette, can't wait to see the entire show set up for fans to enjoy come this Friday night.
Prevette says: "The McLaren Mercedes-Benz, one of just 75 in the world, is on loan from an Australian collector courtesy of our specialist freight company GT International Logistics and will add an exceptional European note to the Meguiar's Car Crazy display."
The Enzo Ferrari graces the GT Logistics site and the car shipping specialists have also organised bringing Greg Murphy's 2003 Bathurst-winning K-Mart Commodore V8 Supercar from its home in Bathurst as part of the New Zealand Legends of Speed display.
Prevette says: "Our New Zealand Legends of Speed started with finding out that 2013 marked the 50th anniversary since the formation of Bruce McLaren Motor Racing, so Bruce and compatriots Denny Hulme and Chris Amon anchor the display. It also features single-seater stars Scott Dixon and Kenny Smith, motorcycle racing champions and world record-setters Ivan Mauger, Graham Crosby and Burt Munro with motorcycle designer and racer John Britten rounding out stars on two wheels. New Zealand's fastest man, drag racer Reece Fish, joins Pikes Peak legend Rod Millen and rally stars Possum Bourne and Emma Gilmour. And from the varied world of circuit racing, fans can also celebrate the successes of Greg Murphy, Paul Radisich, Jim Richards and Craig Baird."
CRC Speedshow also includes a hall full of custom vehicles entered in the Castrol EDGE/Teng Tools Custom and Classic Show.
"From Aussie muscle cars and blinged-out European customs to amped-up Jap models and pristine hot rods and street machines, this new show-within-the-show offers something for every kind of custom vehicle fan," says Prevette.
This year is a significant year for three of the world's top car marques: Lamborghini, Porsche and Aston Martin.
CRC Speedshow and Lamborghini dealership Independent Prestige celebrate the marque's 50th anniversary by displaying seven of the Italian supercars while Continental Car Services and the Porsche Club of New Zealand join forces on a range of Porsche 911s to mark its half century. The centenary of Aston Martin sees several models on display courtesy of Independent Prestige.
Greg Murphy, Angus Fogg, Michael Pickens, Daniel "Fanga Dan" Woolhouse and 10 other celebrity racers will put their reputations on the line in the Right Karts Celebrity Charity Kart Challenge in the live action arena. Other entertainment includes the Ezybuy X-treme Team motorcycle trials, drifting from D1NZ stars and the Drive Rush Stunt Driving team, making the weekend a "must do" petrolhead heaven.