Mazda confident buyers will like its sleek new look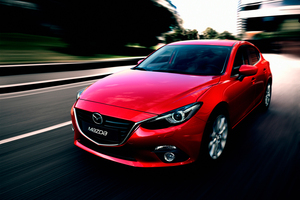 Mazda has lifted the covers on its new star hatchback in design forums.
This week, in five cities worldwide, the Japanese manufacturer showed its long-awaited third generation Mazda3, which will hit New Zealand showrooms early next year.
A bold new direction keeps the big-selling five-door in step with the company's Kodo design language as seen on the CX-5 and CX-9 SUVs and the Mazda6.
It is also the latest model to use a full suite of SkyActiv technologies, which combine a lightweight platform and highly-efficient drivetrains to reduce fuel consumption and emissions.
The hatchback, with bold, sculpted lines, will initially go on sale in New Zealand in a choice of two engines - both petrol direct injection four-cylinders - a 2-litre SkyActiv G and the same 2.5-litre version as elsewhere in the range.
The 2-litre makes 114kW and 200Nm of torque while the 2.5-litre version makes 138kW and 250Nm.
It is expected that Mazda's 2.2-litre SkyActiv diesel will be available in the new hatch. The clever IE LOOP power, and thus fuel saving technology, will be available in other markets but not initially in New Zealand and Australian models.
To accommodate the new design - with its larger interior dimensions, longer bonnet and more purposeful cabin area - the hatchback is 40mm longer, 60mm wider and the roofline has dropped by 15mm.
Sitting in the car at the Mazda design forum revealed soft-touch materials and a higher quality interior. The larger cabin has been redesigned so the driver's seat focuses on what's important, with the large gauge cluster, dash design and centre console design giving a wraparound feel. The upper dashboard is dominated by a new, multimedia screen, part of the Human Machine Interface, which Mazda promises will allow better access to modern necessities such as email, SMS and telephony without compromising driver safety.
The front passenger side is uncluttered and roomy, and the back seat provides ample leg and shoulder room for adult passengers, although the shallower rear side windows may be difficult for small children to see out of.
Mazda Australia's new managing director, Martin Benders, says the new design, following the Kodo "soul in motion" ethos, is helping the brand to stand out among competition.
"Mazda is trying to carve out its own design language and be different and individual," he told Driven. "Our mission is to exceed the expectations of current and new customers."
Benders would not be drawn on when an MPS go-fast version will reach this market.
The hatchback is Mazda's largest seller, and the new, sleek, sportier form marks its first redesign since 2009.
Over 3.5 million Mazda3s have been sold worldwide and, as well as being responsible for the lion's share of Mazda sales here, it was the top selling car in Australia last year, surprising many by beating Ford's and Holden's large car offerings.
Mazda NZ's marketing boss, Glenn Harris, says the new hatchback could be responsible for up to half of the brand's sales next year with high private, lease and fleet demand. "We are pinning a lot of 2014 on this car - it could represent up to 50 per cent of our sales."
Harris says the supply of Mazda3s will be solid, after the huge reaction to Driven's 2013 Car of the Year - the CX-5 - saw demand outstrip supply globally.
"There will be a phased release in the US, Europe and Japan, as we've learned from CX-5 that having a common global launch does put too much strain on the supply chain. The expectation is that we'll easily have enough production to satisfy demand."
Right-hand drive Mazda3s will be sourced completely from Japan, with a factory in Mexico due to come online to bolster left-hand drive markets.