Les Bleus try out a different set of skills at Pukekohe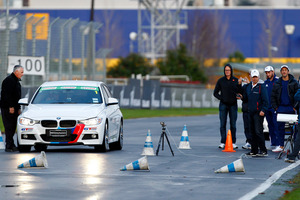 BMW New Zealand put members of the touring French rugby team's performance to the test off the field at Pukekohe raceway last week.
Six of France's finest took part in BMW Driving Experience lapping exercises, before competing against one another in a slalom challenge.
"Following BMW France's announcement earlier this year regarding their partnership with the French Rugby Federation, BMW New Zealand was keen to recognise this association while the team was in the country," said BMW Group New Zealand managing director Nina Englert.
"Many synergies exist between the Ultimate Driving Machine and members of the French rugby team; both are recognised for their competitive edge, powerful performance, precision and agility."
During their time behind the wheel of BMW 320ds, the players required a different style of defence and acquired some valuable on-road handling advice from BMW driving experience instructor Mike Eady.
Using the BMWs' technology and safety features, the teammates went head to head against the clock in the slalom challenge. Several were penalised for road cone handling errors, resulting in an additional two seconds being added to their time per penalty. After two attempts, prop Daniel Kotze had the lead with an impressive time of 27.96 seconds. Centre Maxime Mermoz followed closely behind with 30.12 seconds, while hooker Guilhem Guirado came in third at 31.50 seconds.
"The French rugby team and BMW both represent passion and dynamism, and share a desire to constantly strive for improvement within their respective fields," said Englert.