New Mercedes-Benz comfortably seats seven and handles urban driving surprisingly well, without going crazy on the gas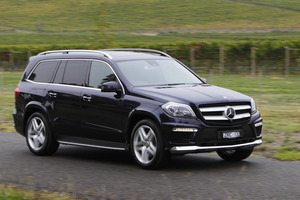 Size is relative in the automotive world. I once had a raging argument with a friend in Britain who insisted her new family vehicle, a Mazda3, was scary-large: hard to see out of, impossible to park. I insisted she come to New Zealand and have a look at a Holden Commodore.
There's no absolute benchmark for what makes a big vehicle. But I reckon I'm close: if you're washing a car and you can't reach the middle of the bonnet with your chamois, you're dealing with a big machine.
Such was the case with the Mercedes-Benz GL 350 BlueTec. This is the baby of the new GL range, although I admit I'm saying that for effect because it's the baby in engine size rather than exterior dimension. Any GL is gargantuan: 5120mm long, 1840mm high. It puts an Audi Q7 in the shade by some margin.
What's the point? Presence, obviously, and the ability to carry seven occupants with space to spare. Or five with the equivalent of a National Mini Storage locker in the back.
While you have the choice of some large V8 petrol engines in the GL range, this entry-level $154,900 350 is powered by a 3.0-litre turbo diesel (that's the "BlueTec" the badge) with a substantial 190kW/620Nm. Brisk forward motion is never an issue, but it still returns 7.7 litres per 100km in the official Combined cycle.
The GL looks and feels old-school Mercedes-Benz - in a good way, I think - but it is cleverly packaged and specified to take the angst out of driving such a large vehicle. Visibility is great with such large glass areas, you simply step across (not up) to get into the vehicle and there's easy entry for third-row passengers. The tailgate is powered, naturally.
All GL models come as standard with air suspension and adaptive damping (Comfort or Sport modes in the GL 350), an intelligent lighting system, Distronic Plus adaptive cruise control, blind-spot and lane-keeping assistance plus a 360-degree parking camera. Sure, the GL takes up a lot of space, but making sure it doesn't take up anybody else's space when it shouldn't is easy.
The GL 350 wants for little - nor should it at this price. It does look just a little, ahem, functional in standard trim though. It's hard to imagine many buyers at this level passing over the optional ($6700) AMG styling package pictured here: it brings flared wheel arches, more aggressive bumpers, monster 21-inch wheels and uprated brakes.
I'd have to say the GL 350's size did not limit its urban usefulness during my test week. It's easy to get into, easy to see out of and loaded with driver aids. It's not even profligate - at least if you're talking fuel economy rather than real estate.
But to understand the GL you must know that it's not only made in America, it's made for America. Over there, they have a lot of SUVs that are even bigger. And a lot of automated car washes.